The Dining Table was slightly changed this year and the box got a new design. This year the top board of the table has a dark brown woodlike structure and the seats of the chairs has now a royal blue fabric. To compare you can look at the two pictures below.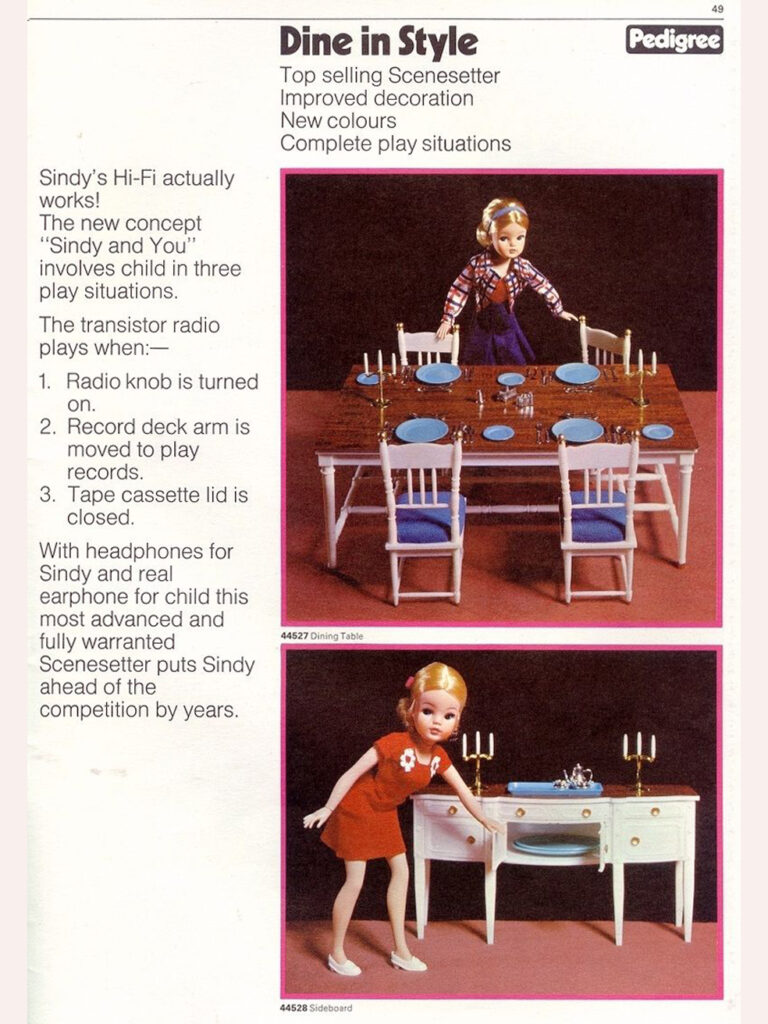 From the start in 1972/73 the Dining Table had a light top board and four chairs with red fabric on the seats.
And as shown on the photo, used both for the brochure and on the box in 1976, you can see a place setting for four and two candelabra. Which was what the description under the picture in the 1973 Sindy Brochure also stated. Although not mentioned we can also notice a plastic silvery coloured set with a lidded butter dish, salt- and pepper shakers and what looks like a little bucket of ice. But in the 1976 picture there are no little bucket of ice anymore and also it looks like they have gotten rid of the four glasses as well as the four coffee cups with plates?
Sadly, as mentioned before, I believe TLSM's 1976 Sindy Brochure used for that years pictures, is a trade version which is why the descriptions of each item shown is so sparse. And since TLSM doesn't own a box, that never has been opened, there's no way of saying for sure if this is what you got as accessories.
Even though the description of the items in the 1977 Sindy Brochure are so much better, it doesn't help much when it comes to the description of the Dining Table:
44527 Dining Table "Major selling scenesetter, simulated wood finish top, four place settings, complete with candelabra and four dining chairs."