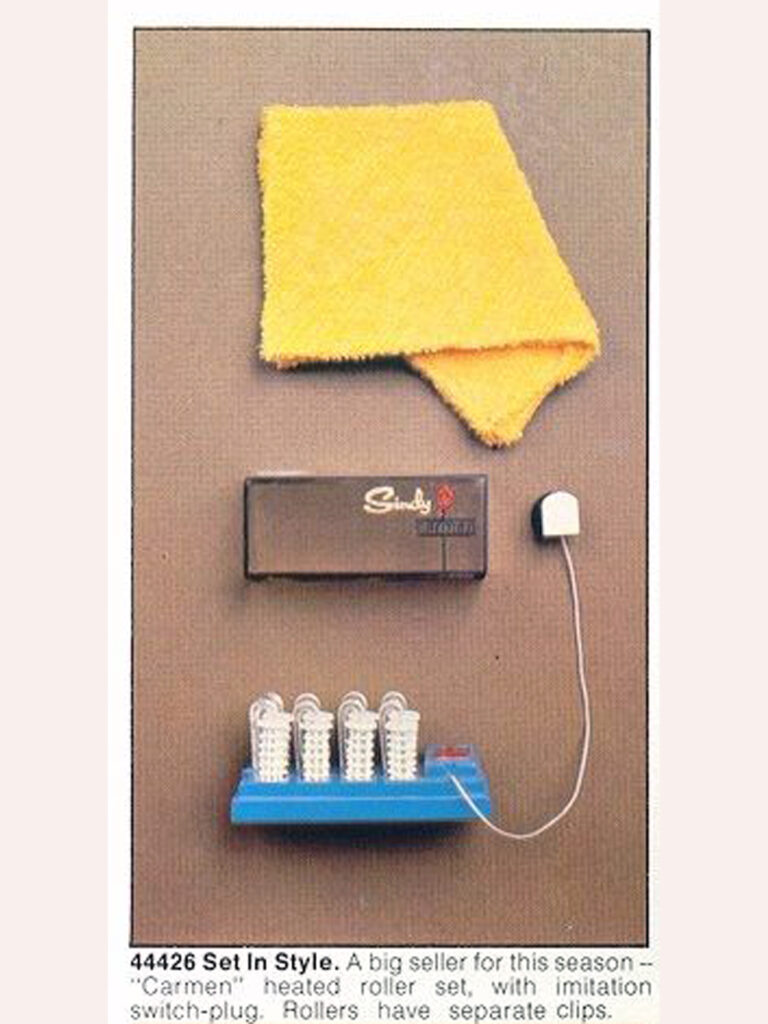 Since TLSM doesn't own a never opened box containing this set from 1977 it's impossible to tell which of the boxes on the pictures below is the correct one.
The design of both the boxes feels correct according to the design of the other packaging and boxes for this year. Read more about the same 44426 Set In Style box (no 2 below) on Our Sindy Museum and/or my thoughts, below.
I think this is a bit interesting. Lets go back and look at the design of the boxes above. The same design on both the boxes. Except when it comes to the background colour, in the centre. And what else is different? Yes! The yellow towel! Box 1 has a towel and box 2 doesn't.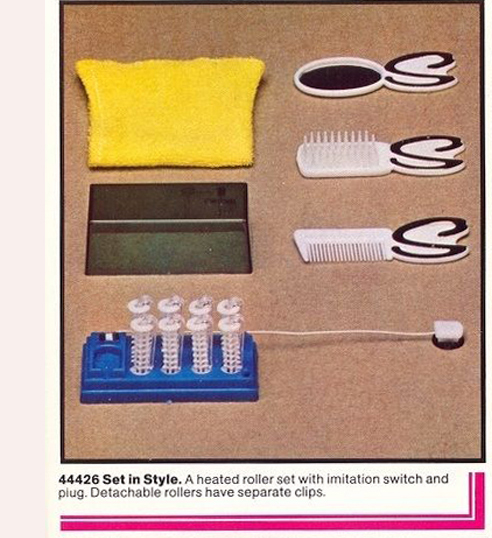 So what do we think about the boxes? Nothing in the texts in the 1977 Sindy Brochure: "A big seller for this season- "Carmen" heated roller set, with imitation switch-plug. Rollers have separate clips." or 1978 Sindy Brochure: "A heated roller set with imitation switch and plug.
Detachable rollers have separate clips" gives us any hint. And according to the images in the brochures, above the text, one would assume the 1977's set would have a towel and a "Carmen" heated roller set (marked with that logo as well) and that 1978's set would have a towel, a "Carmen" heated roller set (marked with that logo as well), a mirror, a brush and a comb. And none of this helps us to sort the mystery of which box came when…
So let's go with the feeling! I know, one person – one feeling, two persons – two different feelings perhaps. But anyway! Since I have a Master in Fine Arts let's pretend we can trust my feelings, lol! To me box 1 looks older and I would guess that one came in 1977 and the "fresher" looking box 2 probably came the year after. And since the design of the logo and packaging design changed in 1979 we can leave that year out of this discussion. Or can we!? Of course not! Nothing is never so simple, when it comes to the history of Sindy.
Why? Well, because I haven't found the 44426 Set In Style set in a 1979 designed box anywhere. And this set did not appear in the 1980 Sindy Brochure. So maybe they knew they were going to change the set and therefore decided to keep it as it was, so one more year with the 1978 design, which ever it was.