The very talented Rachel Godfroy illustrated Sindy for the New Moons launch dolls in 2003. And she says:
"New Moons was a toy company back in the early 2000's who Pedigree asked to design the new look Sindy.
The dolls were sold in Marks and Spencer's for a time. Then Pedigree negotiated a license with Chad Valley which sold their toys in Woolworths. They used the same molds as the New Moons dolls and were sold until 2008, when the contract ended and Woolworths shut down a short time later."
When searching for information about the New Moon Sindys you have probably seen the Babi a fi blog. The owner, Jessica kindly gives TLSM permission to use the text and photos from her blog. To see the original version on her blog click here.
Jessica aka Babi a Fi writes:
"Sindy had been in slow but inexorable decline since the late 1980s, when Hasbro gave her a lawsuit inducing 'Barbie' makeover. By the late 1990s, Hasbro had washed their hands of Sindy, and the licence went instead to Vivid Imaginations. When that reboot failed, New Moons stepped in to produce a range of 6.5" dolls aimed at younger children (aged 5-9), in the hope of tempting concerned parents away from Bratz and Barbie.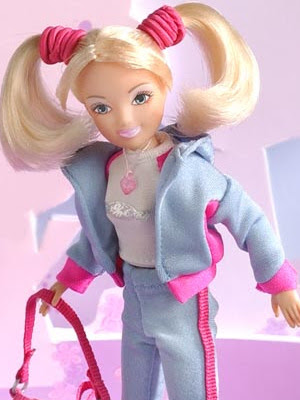 To that end, New Moons decided on a radical redesign. Denise Deane, head of design and development, told the press: "The relaunched Sindy has lost her ample bust and is designed to look like a 15-year-old girl. She's totally unrecognisable. Sindy's still very popular, but she has been neglected over the last few years, and we don't think people are identifying with that look. She's going to look like a 15-year-old, and we've designed her to wear trainers."
The press release picked up the theme: "Presented as a premium brand with medium tier pricing, 100% Sindy has been developed with direct appeal to today's fashion conscious, street-smart girls. Added features include labels, icons, tags, to enhance the collectability of the range.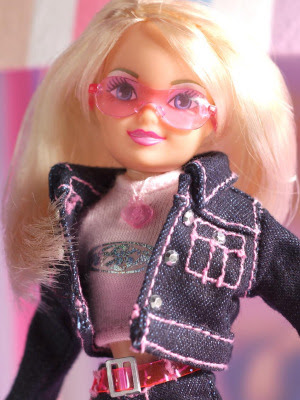 To support the retail launch of 100% Sindy, New Moons are planning a heavyweight marketing campaign including TV advertising (7-year-old Sophienne Duncan was the new face of Sindy, according to the Burton Mail) and extensive PR activity.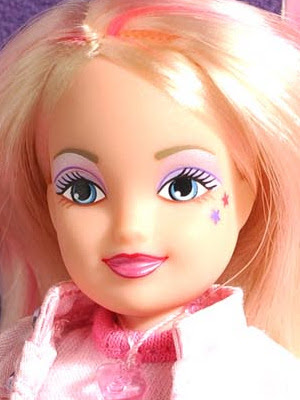 New Moons view their relationship with the Sindy brand as a long term commitment encompassing a ten year development programme. As the leading cross category designer of girls' lifestyle products in the UK, New Moons are confident of the success of the 100% Sindy brand."
The range was first revealed at the 2003 autumn toy fair at the Birmingham NEC, and comprised of 40 products ranging from dolls to stationery. At the core of the launch were the 6.5″ 100% dolls, comprising four sub-brands – 100% Cool, 100% Star, 100% Me, and 100% Fun.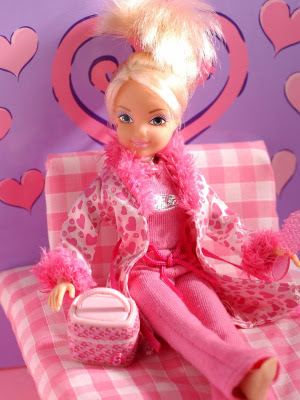 The first wave of the new dolls were launched as Safeway exclusives on Monday 15th September 2003. Each doll came packaged with a cosmetic item for her new owner:
100% Cool came packaged with a lip gloss.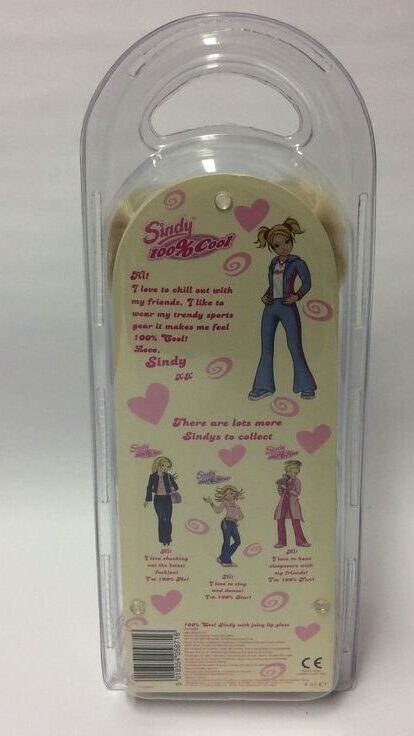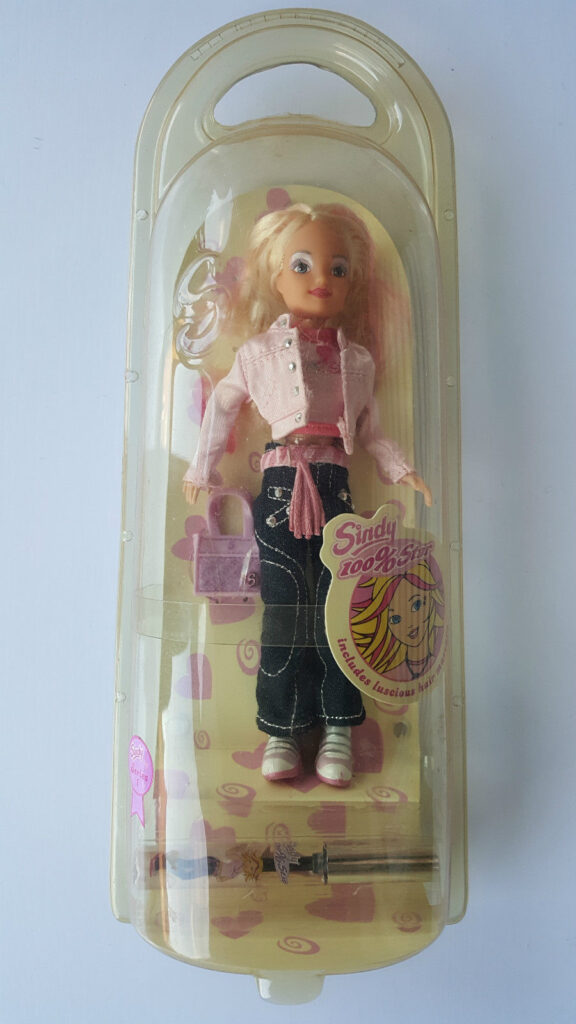 100% Star included a tube of hair mascara.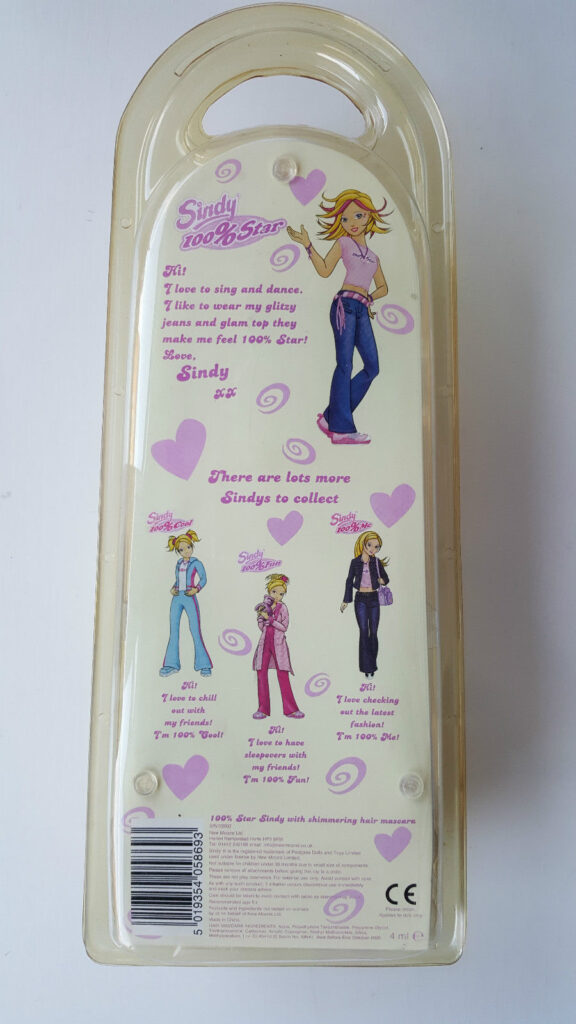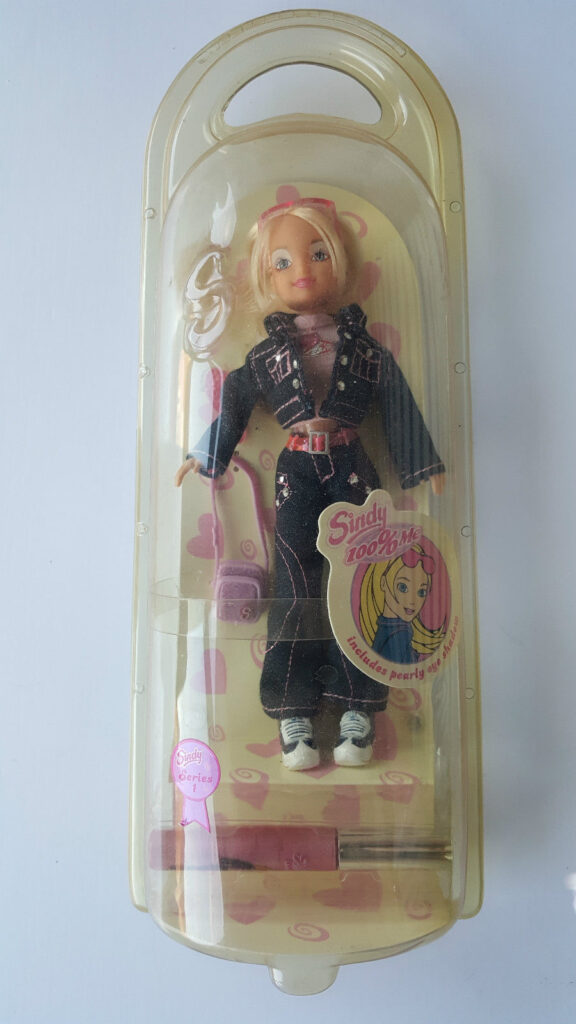 100% Me came with 'pearly eyeshadow'.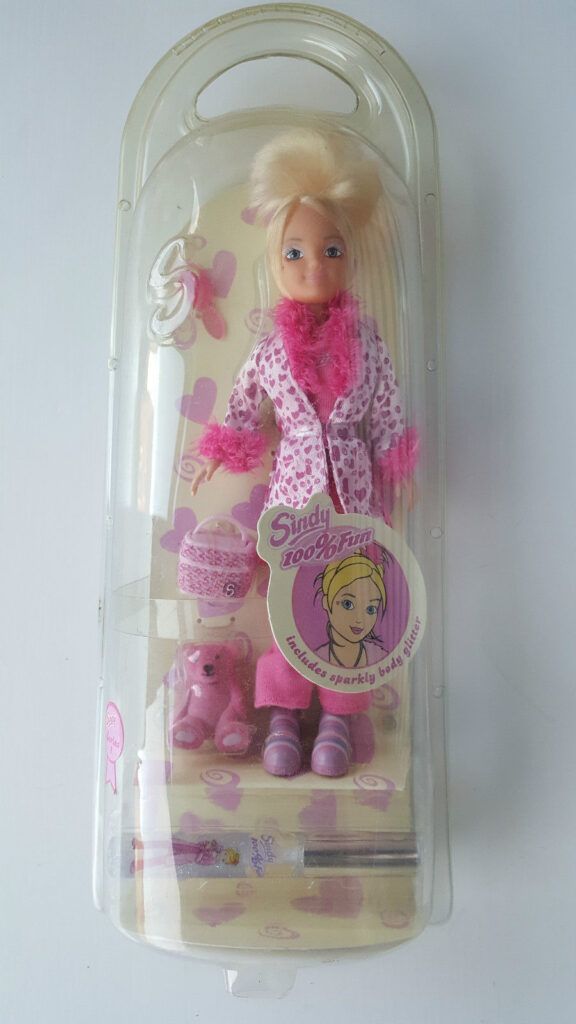 100% Fun came with body glitter.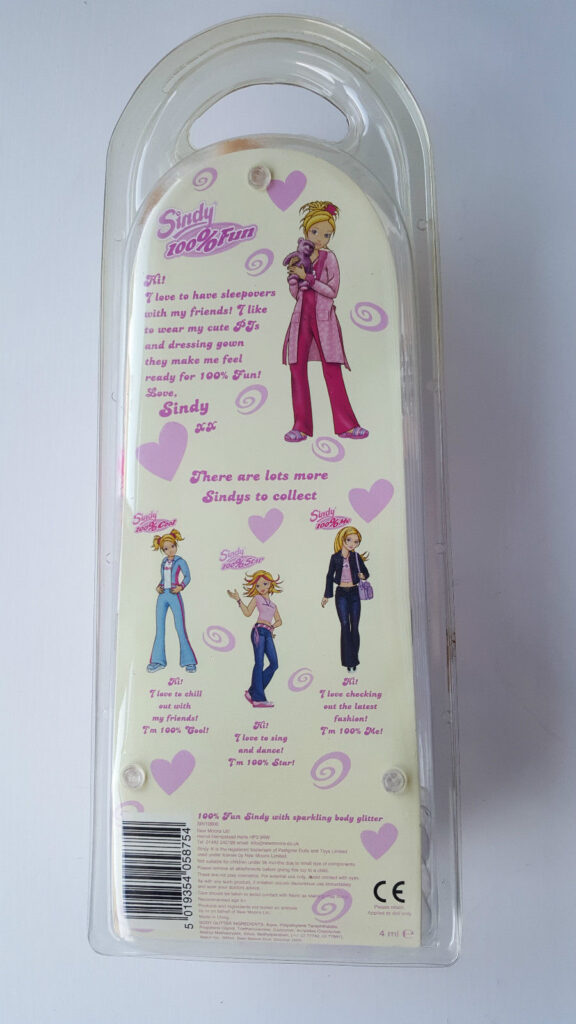 The second wave came with bracelets: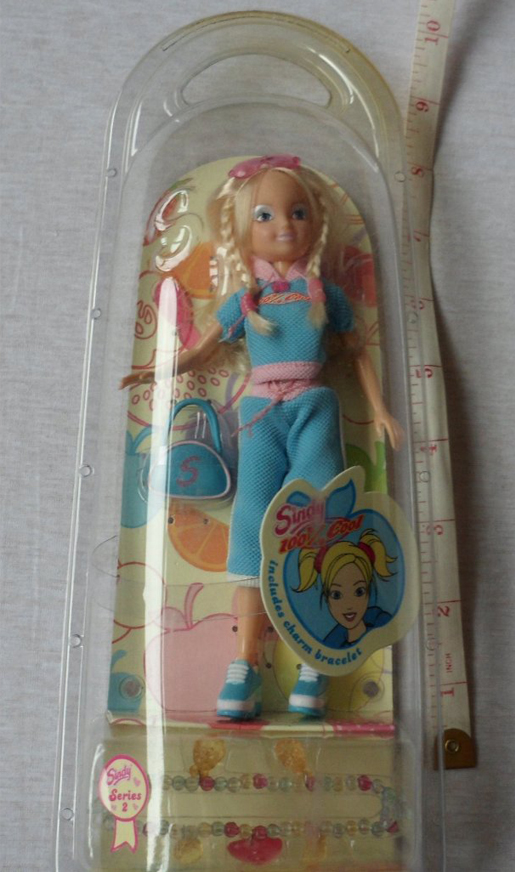 100% Cool.
100% Star.
100% Me.
100% Fun.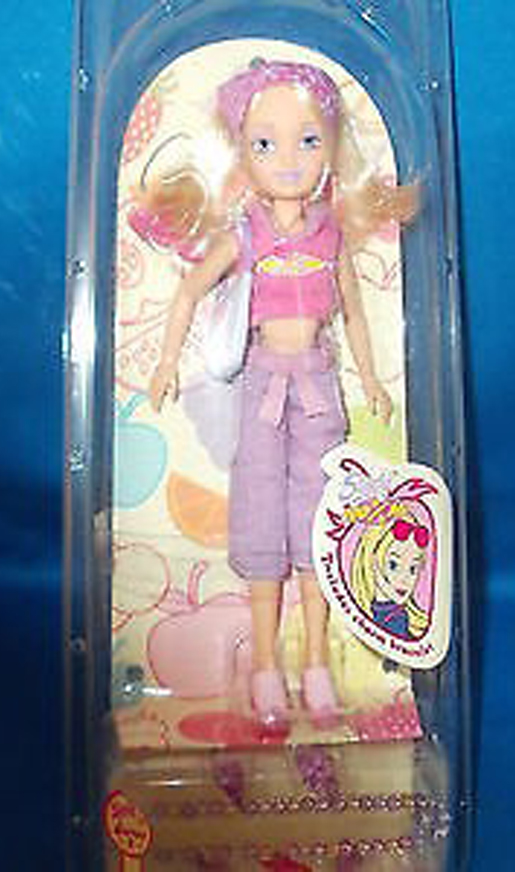 These sub brands were also used for a wide range of stationery and accessories: ☆ Clip Book Marks – 100% Me. ☆ Doodle Notebook – 100% Me. ☆ Magic Flannel – 100% Cool. ☆ Neat Notes Set – 100% Me. ☆ Pencil – 100% Me, 100% Star. ☆ Pencil Sharpener – 100% Me. ☆ Stacking Erasers – 100% Me. ☆ T-shirt Bag Hangers. ☆ T-shirt Shaped Erasers. ☆ Twist-up Crayons – 100% Me. ☆ Alarm Clock. ☆ Make-up Bag. ☆ Bobbles. ☆ Total Twinkle Stickers. ☆ Shoulder Bag. ☆ Purse. ☆ Flask. ☆ Nail Polish. ☆ Body Glitter. ☆ Lip Gloss. ☆ 100% Sindy Jet Set Fashion Organiser. ☆ Beauty Bag – 100% Cool. ☆ Beauty Bag – 100% Star. ☆ Bubble Necklace. ☆ Dress-Up Shoes. ☆ Fashion Phone. ☆ Make-Up Set. ☆ Secret Diary. ☆ Secret Sweets – Candy. ☆ Secret Sweets – Strawberry. ☆ Stickers. ☆ Go Create Sindy Set.
The extended 2004/05 range also included larger 10.75″ dolls.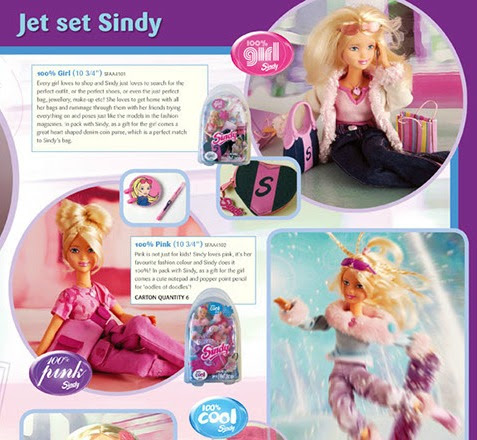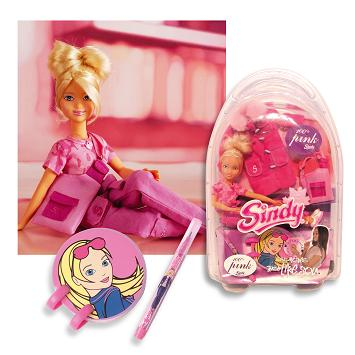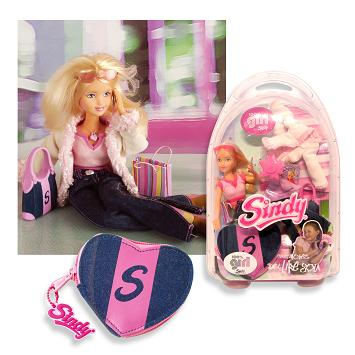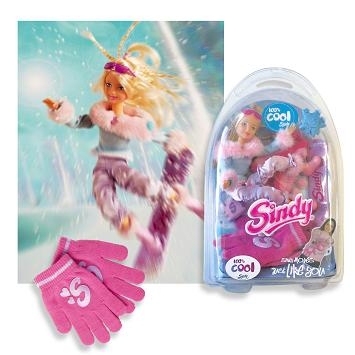 Marks and Spencers had a small exclusive range:
My First Sindy, My First Amber, Bags of Fashion 3 Doll Set, Beach Fun Fashion Set (*4), Disco Diva Fashion Set (*2), Sleepover Fashion Set (*3), Workout Fashion Set (*1)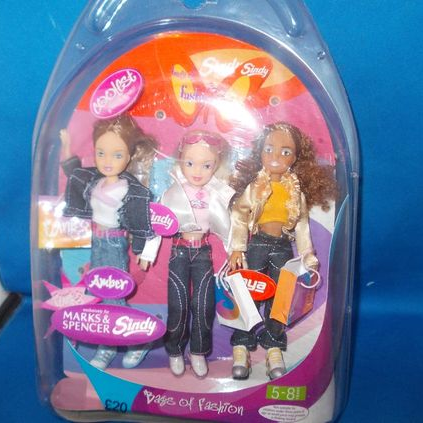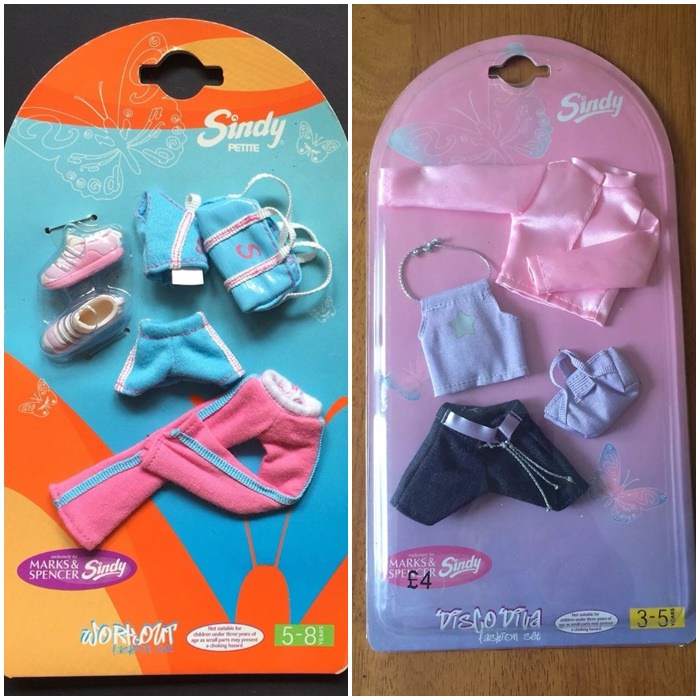 New Moons also produced a cabin crew Sindy doll for British Airways: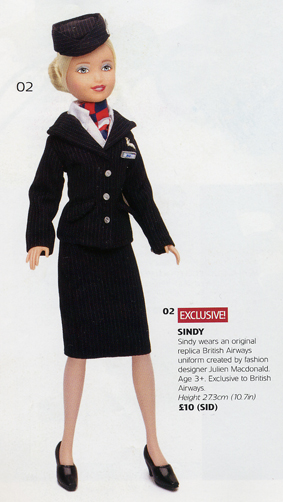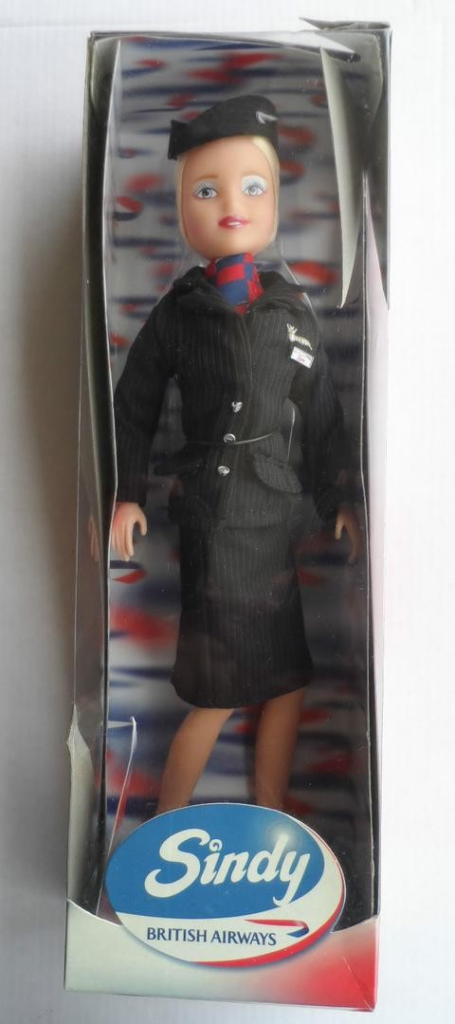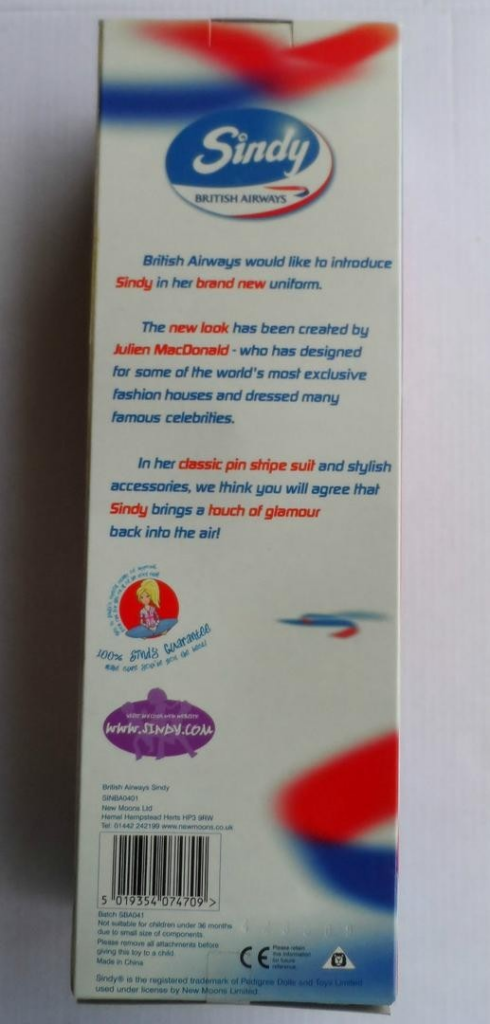 Thank you so much Jessica for letting TLSM use your article and photos!