Questions and Answers
1) Q: How did you first discover Sindy? A: I guess when I was about 4 or 5 I think my parents brought me a Sindy. One of my mums friends had a daughter that had out-grown (!) her Sindy's and she gave me some clothes and accessories. I was hooked.
2) Q: How old were you when you got your first Sindy? A: See above
3) Q: What model was your first Sindy? A: I believe it's my short haired basic – with 'Princess Diana' inspired hair. I was about 5 when I sat on my knees watching Lady Diana become a princess and like every young child in the 1980's was obsessed with the royal wedding. So I guess Sindy must have felt like a princess at the time.
4) Q: What kind of Sindy/Sindy item did you dream about as a kid? A: I was very lucky (and now I realise very spoilt) by my parents and my beloved granddad who brought me many Sindy items. So I feel like as a kid I got mostly all the things I dreamed about… Plus my cousins had Sindy so we always seemed to have loads to play with. I remember I really wanted all the Emanuel outfits (although I was about 9 and sadly no longer playing Sindy, so never got them). I have them all now – it was worth the 35 years+ wait!
5) Q: What kind of Sindy/Sindy item do you dream about now? A: If I had answered this email a few weeks ago I would have said a Gayle doll – but I have just managed to get one (such a treat!) – I am endlessly searching for a Florido Brunette Gauntlet – never had them as a child and I adore them.
6) Q: What led you into your Sindy career you have today? A: Ooh I really wish it was my only career! It started when my mum and I got all my boxed Sindy's, house and scene setters out of the attic for my then 4 year old daughter. I had visions of us playing together. She played for a bit then moved over to the dark side (Barbie!). I moved the house into the attic room as I couldn't bear to pack it all away again. I then thought maybe it would be fun to take some pictures of Sindy and start an Instagram account. As my daughter was watching many doll videos on you tube and thought we could do it together – again she got bored and moved onto Roblox! I carried on taking pictures and had a private account for ages as I guess I was a little embarrassed to be a 40+ woman playing with dolls. Then lockdown happened and I discovered the Vintage Sindy Collectors group on Facebook and I realised how many women (and men) collected dolls. I lurked for a bit then after a while I started to share my pictures. That gave me the confidence to share my Instagram account. And, here we are. I had 5 Sindy's from my childhood. I now have 27. Not a lot compared to some but I don't collect as such. I just love styling them up and setting scenes and taking pictures. I feel like my 6/7 year old self is looking down on me thinking ' see it was worth looking after all those toys so well and not selling them when you thought you had outgrew them.' It's a bit silly but with my instagram feed and now the launch of my self published Sindy mag I am doing exactly what I was always meant to be doing. I feel so happy. And, I know that comes from the special bond we all feel with Sindy.
7) Q: Can you mention three people you think helped you there? A: Number 1 I guess will have to say most importantly my mum. My mum insisted I didn't sell my Sindy stuff so I could buy clothes and makeup when I was 13, she packed it all away, in the original boxes with every item intact. She then stored it in the attic for over 35 years. I remember us having a phone call in hospital the night I had my daughter and her saying 'ooh we can get your Sindys back out now!" Number 2 I guess my husband (and daughter) for allowing me time to 'play', allowing me to make a mess with lots of minis and for understanding my crazy hobby. And, number 3 and he wouldn't even know this but @sindy_the_traveller as when I set up my account this was one of the first accounts I followed and thought – yes, this is what I want to do – put Sindy in stylish clothes, put her in real life situations and bring her back to life through photography. His work continues to inspire me – and there are so many accounts that have helped me by just being kind, supportive, encouraging and generally a brilliant space to spend time in.
8) Q: Do you have a special goal for your Sindy work? A: Ooh, I guess making my Sindy magazine was my goal. I have a 23+ year background in publishing so it was always in my mind when I set up the account. But, I only really thought I could do it this year. So I just went for it and launched the September issue of Mam'selle in August. ( TLSM says: click on this link to read the Mam'selle: https://issuu.com/mamselle_magazine) My big goal is to put on a Sindy exhibition for her 60th in 2023 – gotta have a dream, right?
9) Q: Can you mention three people you think of as doll influencers? A: I would say @granmagetsreal is a massive influencer in the doll community and has always been super kind and encouraging whenever I have sent her random messages. @bella_belladoll is really well known in the doll community and shares so many behind the scenes tips and tricks – and inspired the community. She deserves all her success. And, although all Barbie I have to mention @dawsondigsdolls as I just love his mid-century modern sets and 1960's fashions – I want to just move into his scenes they are so gorgeous. Eek… all these accounts are shhh *Barbie. I also love the @sindy ballet girl and @sindy dolls Etsy and @sindy the atelier – they all take stunning pictures.
10) Q: What do you love/like/appreciate about Sindy? A: I love that she is British – of course. But I love that she evokes so much nostalgia from my childhood – and sharing her now is bringing me so much joy. When I share pictures my favourite messages are from people who say 'I had that as child' or 'I remember that…' its a lovely and simple way to connect and keep this much-loved British icon alive.
Anything else you'd like to share with us? Oh goodness I could ramble on about Sindy for hours! I am going to Dollycon for the first time this year – so am looking forward to meeting lots of like-minded Sindy lovers – many who I have only spoken to online. I will be taking an extra packed case for a Sindy or 5 to come too!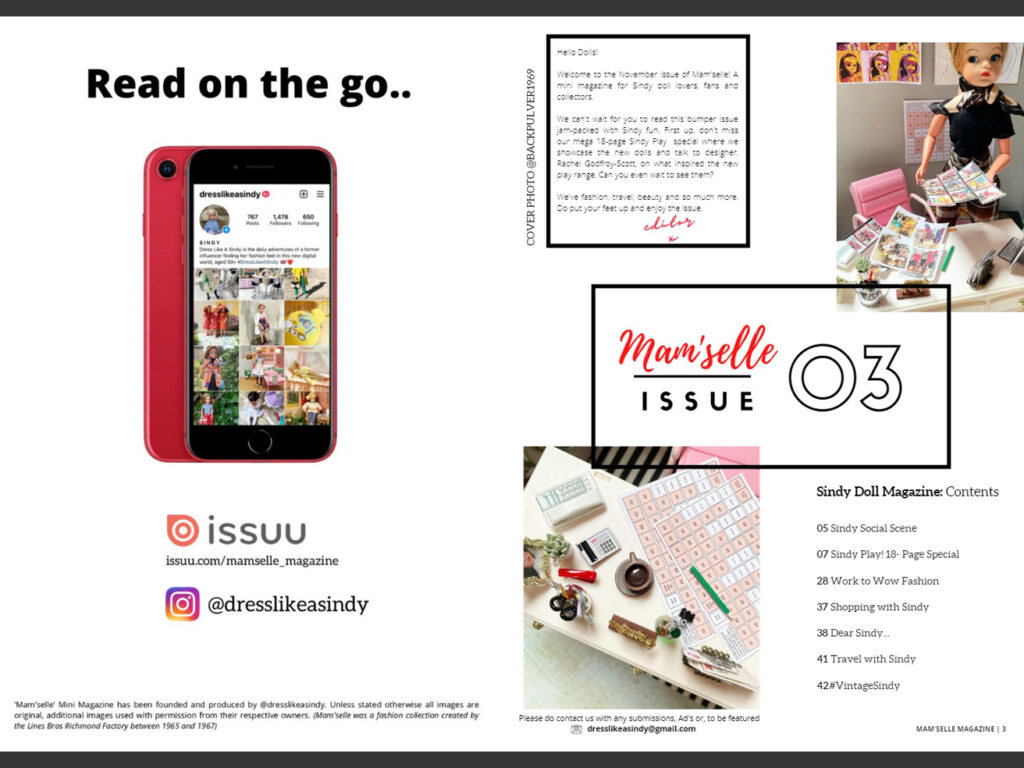 From @dresslikeasindy's Instagram:
"Every Wednesday I share a little project that I never thought I would still be sharing – but here we are at 30 I came up with this idea partly to showcase my dolls and scenesetters from my childhood. But, also I hoped they would inspire my 8-year old daughter – proving you can do anything you want if you put your mind to it. We started it together – but she has moved on ('mummy, I don't want to play with dolls anymore!')
Now it has become something I look forward to sharing and a small weekly challenge to improve my doll photography, doll styling and scenes.
When I started this little MY DOLL CAREER project back in September 2020 it was a way to photograph my vintage doll furniture, Scenesetters and clothes to set up a scene. But as time has gone on I have been purchasing lots of bits and pieces to help style up the scenes .
Sometimes just finding one little thing on here, on Etsy or a doll website can spark off a whole new career! Like the little O.P.I nail polishes that @grandmagetsreal shared on her feed that inspired my nail bar, seeing a Barbie photograph with cucumbers on her eyes @barbiestyle and then me thinking 'ooh, I can make a beauty spa' or even seeing Sindy furniture used in a different way – like my sewing room career picts – inspired by @jollydollyshop There is so many inspiring accounts on here – I'm not sure I will ever run out of ideas – just living space! That's why I especially love it when I can multi use the furniture in different ways for these set-ups too – as makes each purchase worthwhile.
Not wanting to sound like a total nut-job or crazy doll lady but all my Sindy's have their own little style and 'personality' that when I decide on a career I know instantly which Sindy will work for each scene.

I also know immediately how I want them to dress – maybe it's my years as a fashion editor and stylist – or, maybe it's because my Sindy's have more clothes than me and my daughter combined!"
More examples of MY DOLL CAREER:
THANK YOU Bonita for your amazing work and for taking the time to answer all the questions!
October 2021