Questions and Answers
1) Q: How did you first discover Sindy? A: In 2017, after I had left my corporate job for a change, I had an idea to make brooches out of old doll's clothes and I ordered some of them on eBay. I was fascinated by them! The brooches idea didn't work and I realised I loved the clothes just as they were. I then discovered Sindy because some of the clothes were labelled as Sindy on eBay.
2) Q: How old were you when you got your first Sindy? A: I don't remember Sindy as a child, so I guess I must have been in my 50s!
3) Q: What model was your first Sindy? A: I don't actually remember that sorry!
4) Q: What kind of Sindy/Sindy item did you dream about as a kid? A: I was once in a rather fancy department store in Cambridge UK, called Joshua Taylor. There was a big display of beautifully presented doll's outfits and in retrospect I think they must have been Pedigree Sindy. I remember feeling really attracted to them and wanting them, but not having lashings of pocket money at the time. I've always loved colour and fashion.
5) Q: What kind of Sindy/Sindy item do you dream about now? A: I just love variety, so I enjoy experiencing (or should I say playing with?!!) a huge array of dolls before I sell them on. I would rather like to have kept an absolutely perfect Beach Party Sindy who went to a new owner. I'm wistful about her! I would love the correct head for my gauntlet Sindy. She has a later Sindy head not the correct one. Love her nobbly knees – I can relate. I do keep a good range of dolls to use as models and as a small personal collection. I like to show different skin tones, hair colours and so on and make things as diverse as possible. So I'm really happy to have added the new Kid Kreations Fashion Blogger black / afro Sindy to my collection this week.
6) Q: What led you into your Sindy career you have today? A: As described above.
7) Q: Can you mention three people you think helped you there? A: I don't have a fashion doll mentor, but the community on Facebook have been enormously helpful. Ruth Gadsby for running the Sindy Collectors Corner Facebook group and creating a lovely atmosphere. Juliette Dodd aka SindySnap for being irreverent, outrageous, super creative and inspiring. Recently Lucy Aissa, who I interviewed on my blog – she is great at chatting and bonding with people around the community and bringing people together. Her enthusiastic engagement really encourages me creatively.
8) Q: Do you have a special goal for your Sindy work? A: That's a great question. My goal right now is to be a bit of a fashion designer diva. I want to create doll sized fashion collections and I've already started. I want to unleash my creativity. I've just started a new Facebook Group where I'll be sharing the inside of my creative brain from sketches and prototypes to completed collections. Come along if you want to see what I'm up to. Everyone is welcome to join www.facebook.com/groups/shimmyshimcreative/
9) Q: Can you mention three people you think of as doll influensers? A: @JollyDollShop – also a designer and maker she is very prolific on Instagram and also very encouraging to other makers.@sewist53 – a very well known Sindy collector and maker who is noticeable for her very enthusiastic comments and affectionate sentiments to everyone Sindy on Instagram@sindy_the_traveler I love experiencing the feeling of travelling along with the 70s Sindy who stars in this Instagram feed.
10) Q: What do you love/like/appreciate about Sindy? A: The delight of exploring the beautifully designed clothes and sets through the decades. The sweet nostalgia. The joy of design! I love the way the dolls and outfits encompass the era they were made so well. They are the best time machine.
Anything else you'd like to share with us? Yes the ShimmyShim YouTube channel https://www.youtube.com/shimmyshimshop – I really enjoy making videos and I've shared expertise on doll restoration, design and all things fashion doll related. It's great to share with the community.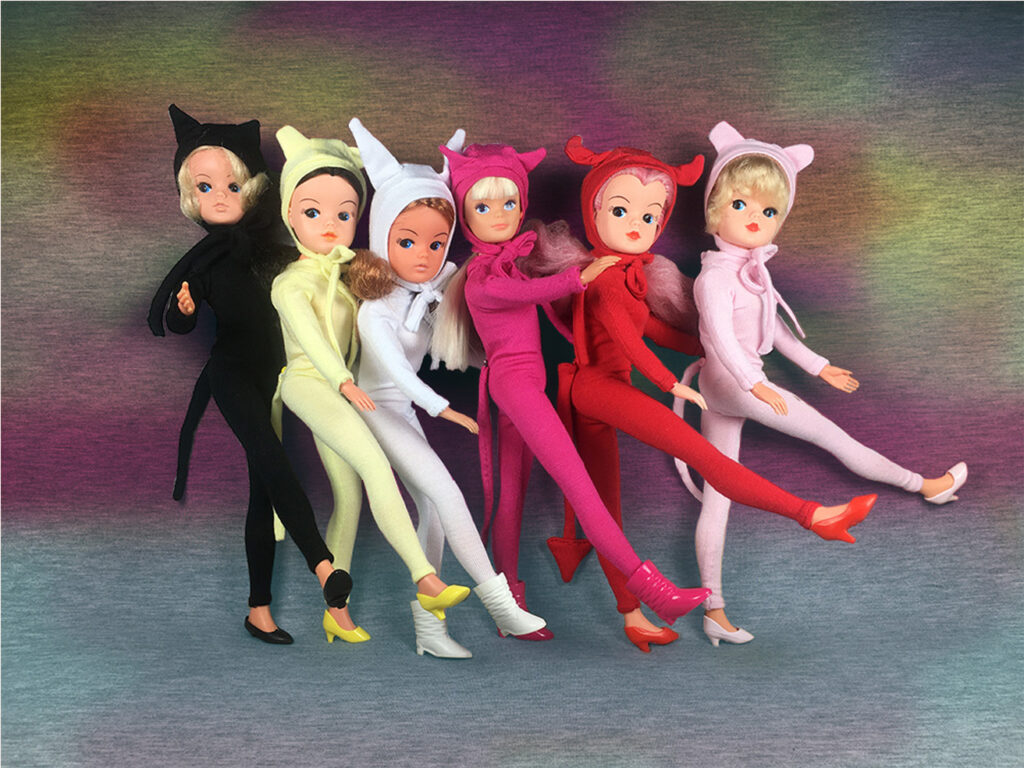 Rags to Riches – a project I'm doing to use up scraps from making tights and catsuits and so on.
Ice Cream Café Latte project.
This set is a fashion shoot for my Ice Cream Latte Collection (which is still in development). It shows experimentation with different fabrics.
The pink raspberry swirl dress is closest to the final choice fabric: it is lightweight satin at the front and stretch jersey at the back.
The design is innovative in that it uses two different fabrics so that no fastenings are required. It also is as close to a cowl neck as I could achieve at such a small scale.
The Neopolitan style multi colour one is printed on lycra and the Cappacino golden / creamy hearts scarves and dress are pure silk.
THANK YOU Frankie for your amazing work and for taking the time to answer all the questions!
October 2021