For a closer look at The Little Sindy Museum's riding outfits and horses, click on an image below.
All pictures on this page are shown with the kind permission of Pedigree (and other mentioned on the photos).
Hooray for the year of 1982 and all the beautiful horse related accessories! For outfits Sindy was given a yellow jumper in Pony Club 44121.
She also got a warmer set with a black vest in Riding Out 44362 and a light blue pair of trousers in Rodeo 44365, but the trousers didn't have the white side seam as it was shown in the brochure (as far as TLSM know! If you have a pair and know they are from this set, please send a PM!).
A great new accessory for this year was the Gig and Horse 44520, one type of box shown above. The brown horse was still the same as in 1977 and in the newer box from 1979.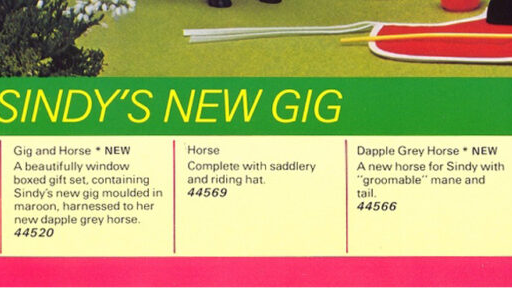 The grey horse was also available, without the gig, in Dapple Grey Horse 44566.
But this isn't the end of this years accessories! Pedigree also released the Horsebox 44580 and a blue gig, without a horse, Sindy's Gig 44519.
In the same brochure there was a Pony Club Gift Set 44853 consisting of a Funtime Sindy in the Pony Club outfit, a brown horse, two competition jumps, a winner cup and a rosette.
The numbers though are a bit confusing. Compared to next year (1983) they have not kept the same… A bit strange. My guess is that it might be a typo in one of the brochures.