TLSM is collaborating with Matthew Hadley who has @dollsabouttown on Instagram.
He has kindly helped out with both text and photos on this uncatalogued doll from 1984.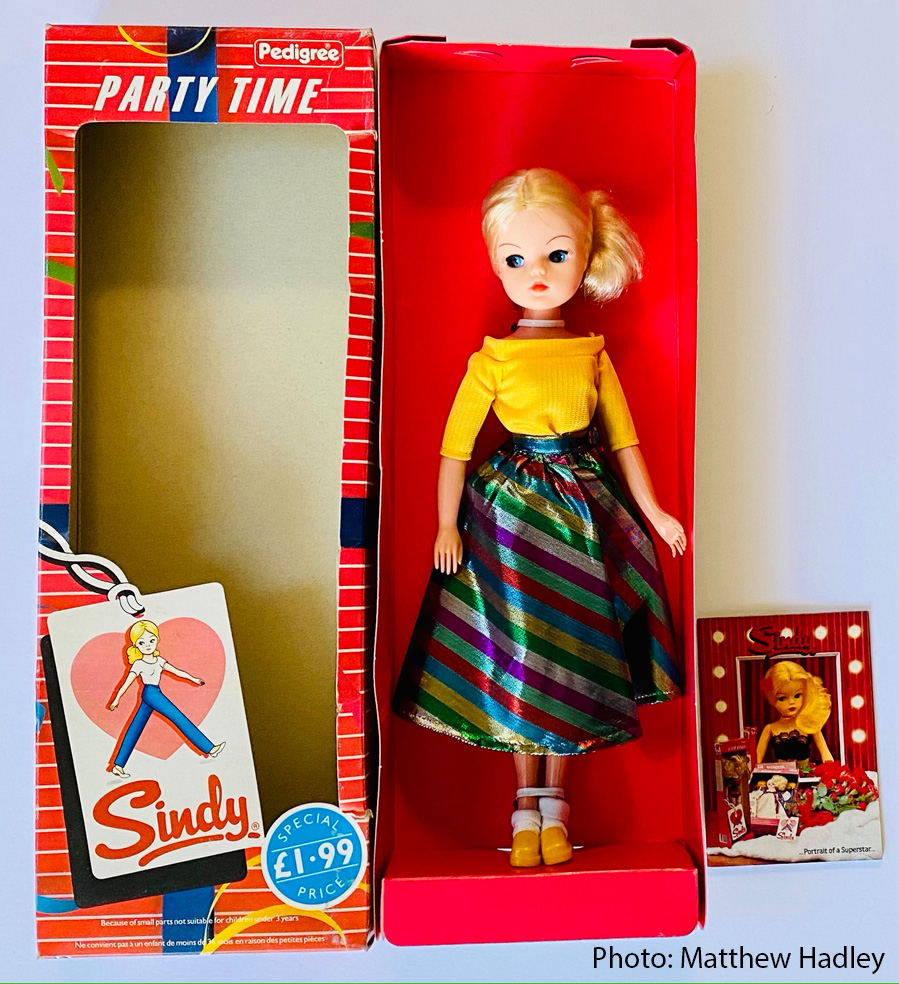 He says: 'The mid 1980's saw several uncatalogued dolls and outfits, one of which was the lovely 'Party Time' Sindy, issued in late 1984.
A bit like the 'Autumn Designs' fashions of the same year, this doll was not featured in the Sindy catalogue, she simply appearedin toyshops in late autumn, in time for Christmas.

The box featured a theme of ribbons and party streamers printed over the usual stripes of Sindy's packaging, and on the back there was a 'To' and 'From' label that could be filled in by a gift-giver. Interestingly and unlike any other Sindy that I am aware of, the price was printed onto the front of the box, in a blue circle.
She cost a mere £1.99 – less than the cost of a 'Boutique' fashion -which were priced at £2.25 at the time! A very good deal!
I remember buying 'Party Time' in 'Boots The Chemist' in Bedford, England, as a gift for someone in November 1984, and couldn't believe how inexpensive she was.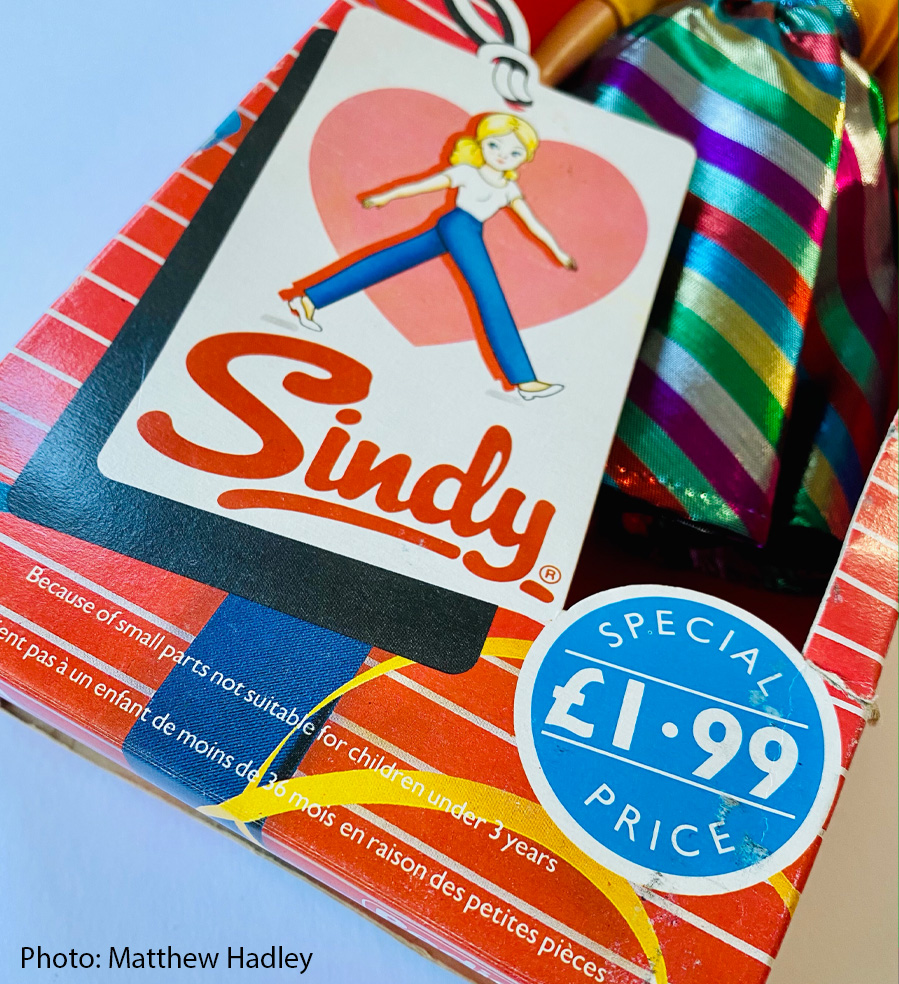 Boots used to have toys at Christmas time back in the 1980's. 
Sindy herself was a 'Funtime' specification doll, with clicky legs, moveable head, waist, hips, and shoulders. She had rooted eyelashes and surprisingly thick hair (for the price!) styled in a sausage curl pony tail. She was available in blonde, auburn and brunette. The box liner was a deep rose pink and included with her was the 1984 mini product catalogue – 'Portrait of a Superstar'.
She wore a yellow 'boat neck' top with elbow length sleeves, a fabulous, full, 1950's style calf length skirt, in a multi coloured sparkly lurex stripe. On her feet she wore white 'Bobby socks' and yellow shoes.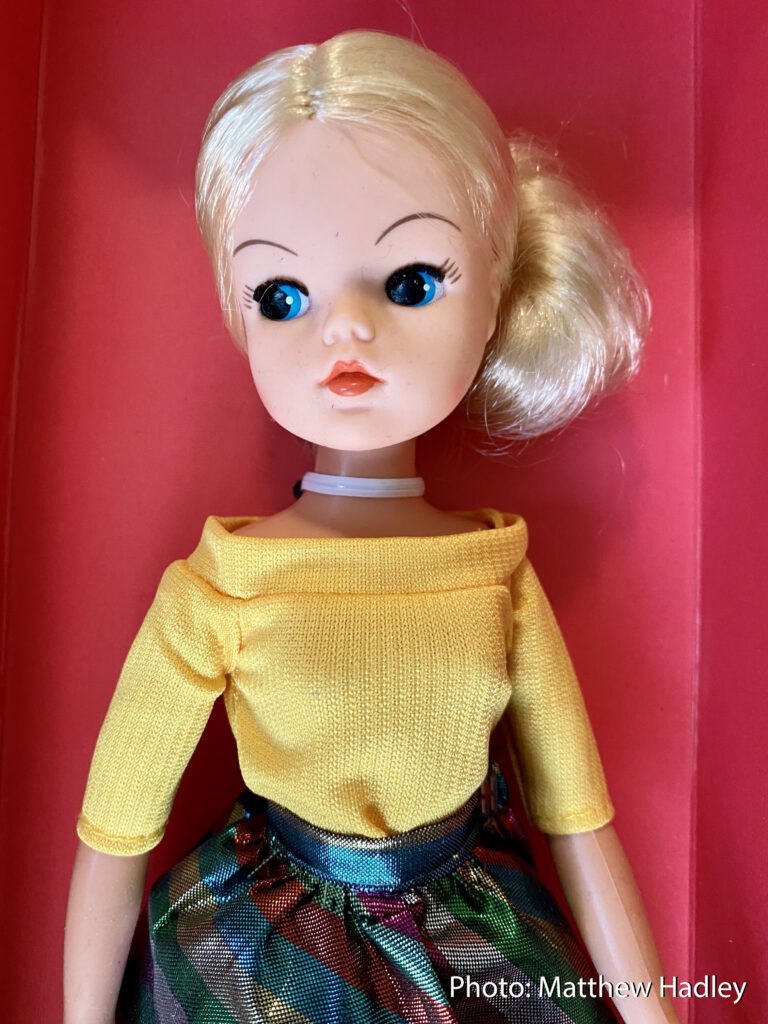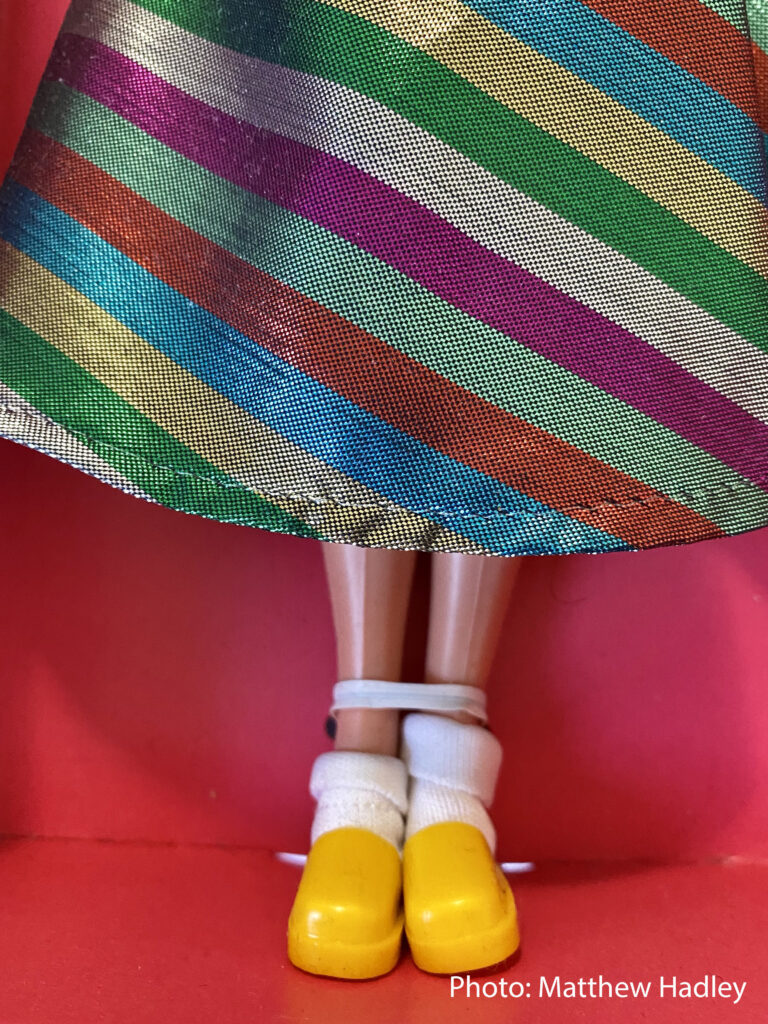 Interestingly, the 'Party Time' outfit was similar to two others that year. 'Jumping Jive' and one of the 'Autumn Designs' sets also featured this style of full 1950's style skirt, in colourful prints and with plain coloured tops. 'Jumping Jive' also included similar white socks. These outfits all had a 1950's Rock 'n' Roll vibe – jiving and swing dance were popular again due to a resurgence in 'Rockabilly' music – in the U.K. Shakin' Stevens and Stray Cats and were high in the charts with this style of music. I remember having a 'Best of the 1950's' record with Little Richard, Bill Haley and the Comets and Elvis on it that I listened to alongside modern music like Nik Kershaw, Kim Wilde, Adam Ant and Bananarama! Interesting that Sindy's designers captured this trend in not one but three different outfits!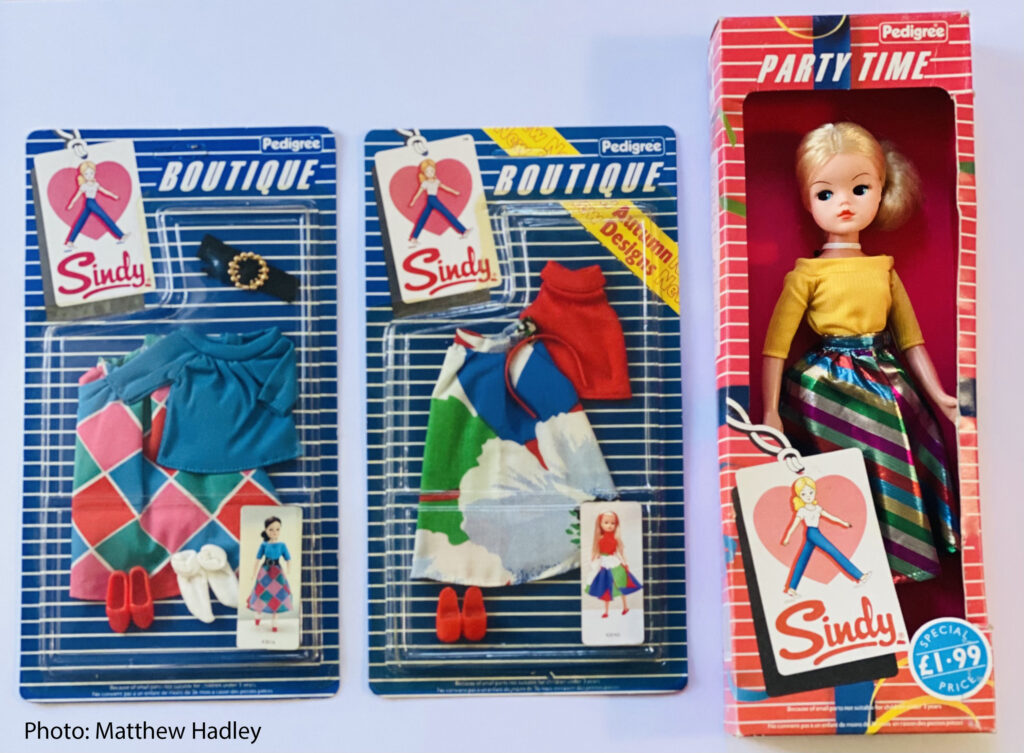 'Party Time' is often listed as being issued in 1985 instead of 1984, and her skirt is often confused with the 1986 'Colour Magic' Sindy skirt, which used the same fabric. She is relatively hard to find today but she and her clothing do pop up on Ebay from time to time.
A favourite of mine from the 1980's and an interesting addition to Sindy's 1984 wardrobe!'