Here is the list of Sindy dolls from the 1971 catalogue.
More pictures and information will be uploaded as soon as time allows it! Click on an image for more detailed photos.
If you own one of the dolls that aren't part of TLSM's collection yet and are interested in selling it, please get in touch. 
All pictures on this page are shown with the kind permission of Pedigree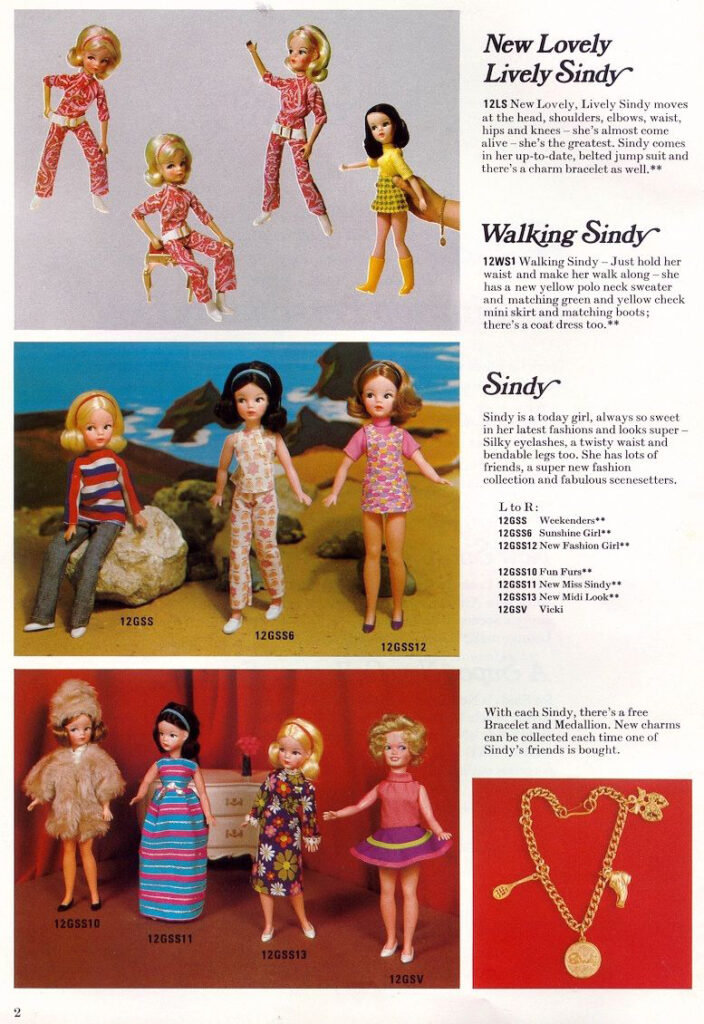 TLSM is very grateful to Aly Simmons & Nav Sikand for sharing their documentation about the 1971 Sindy dolls! The information just below are from their former website http://www.sindy-dolls.com/ .
"1971 Trendy Girl
The Trendy Girl is one of the (if not the) most popular and highly sought after dolls amongst collectors today. This doll has centre-parted shoulder length hair, real eyelashes (still the push-in type) and a new style pop off head enabling it to be tilted at any angle. She has high color facial features,  Hair colors, dark Blonde, light Blonde, Brunette, Ash blonde (almost silver) Chestnut and Auburn, with a blue elastic hair band. Underneath her hair you will notice a plastic rim,  which looks like it should have holes for more hair to go into, but for some unknown reason they were made this way?  Mainly found with a twisty waist but some do have a non-twist waist, (referred to as EG dolls by collectors.
Outfits are Trendy Girl, Day Girl, New Fashion Girl, Fun Furs, Miss Sindy and Midi Look. Twisty waist markings are 033055X on the back of the head, 033029 between the shoulder blades and 033030 on the lower back. Non-twist waist markings are 033055X on the back of head and EG 033087 X   between the shoulder blades."