SHORT FACTS
Name: Jane Morgan
Age: Over 55
Lives in: Wales, UK
Occupation: Work with young children.
Known for: Running the charity fundraising facebook group: Buy and Sell UK – 100% to the DEC Ukraine Appeal.
Favourite Sindy: Impossible to choose. I love auburn haired Sindys but don't yet have one.
Questions and Answers
1) Q: How did you first discover Sindy? A: I had the Sindy swimming pool with inflatable chairs as a present in the 1970s. (1974) I may have had Sindy dolls in 1974 too – I can't remember. The only photo I have with a Sindy is the Christmas 1976 one. I was 11 by then. (I remember having a Havoc doll in her zip up jumpsuit too in the 1970s.)
2) Q: How old were you when you got your first Sindy? A: n/a
3) Q: What model was your first Sindy? A: n/a
4) Q: What kind of Sindy/Sindy item did you dream about as a kid? A: n/a
5) Q: What kind of Sindy/Sindy item do you dream about now? A: It would be lovely to own the 1976 hi fi. I would love an auburn haired Sindy one day too.
6) Q: What led you into your Sindy career you have today? A: n/a
7) Q: Can you mention three people you think helped you there? A: n/a
8) Q: Do you have a special goal for your Sindy work? A: n/a
9) Q: Can you mention three people you think of as doll influensers? A: n/a
10) Q: What do you love/like/appreciate about Sindy? A: I love Sindy's pretty face and the way she looks good in so many styles of clothing.
11) Q: Why did you start your Facebook group? A: In March 2022, feeling distressed by events following the invasion of the Ukraine, I set up the 'Buy and Sell UK – 100% to the DEC Ukraine Appeal' facebook group. I wanted to do something to help the citizens suffering there.
As a vintage doll and bear enthusiast, I invited people from both the vintage doll loving community, and teddy bear collectors to the group. The first item that raised funds was a pink teddy bear.
Since then hundreds and hundreds of dolls, bears and craft items have been donated to raise money. Almost £23000 has been raised in the group up to February 11th 2023. The total rises daily. All money is paid direct to the DEC Ukraine Humanitarian Appeal by the member who wants the item. Just a photo of their email confirmation donation from the DEC comes to the group as proof. (DEC Is Disasters Emergency Committee).
Our group members are so generous. Several valuable bears have been donated, including ones donated directly by the bear artists themselves. Doll artists too have donated their creations. We have many Sindy lovers in the group. One is Basia and she has donated Sindy dolls frequently since the group has been running. These are always received with enthusiasm, and raise money quickly.
I am so proud of our community within the group, and grateful that our combined efforts are making a difference.
Anything else you'd like to share with us? I love vintage Faerie Glen brand clothing for my Sindys. They were a British firm. There's a really interesting short British Pathe film about Faerie Glen doll clothing on YouTube.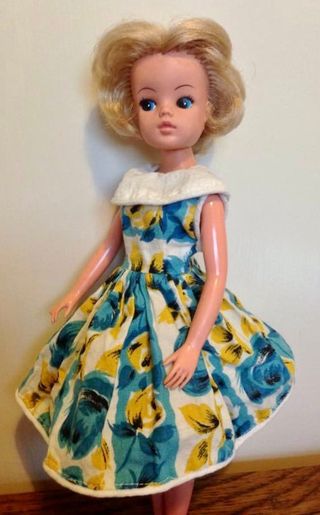 THANK YOU Jane for your amazing work and for taking the time to answer all the questions!
February 2023