Angelika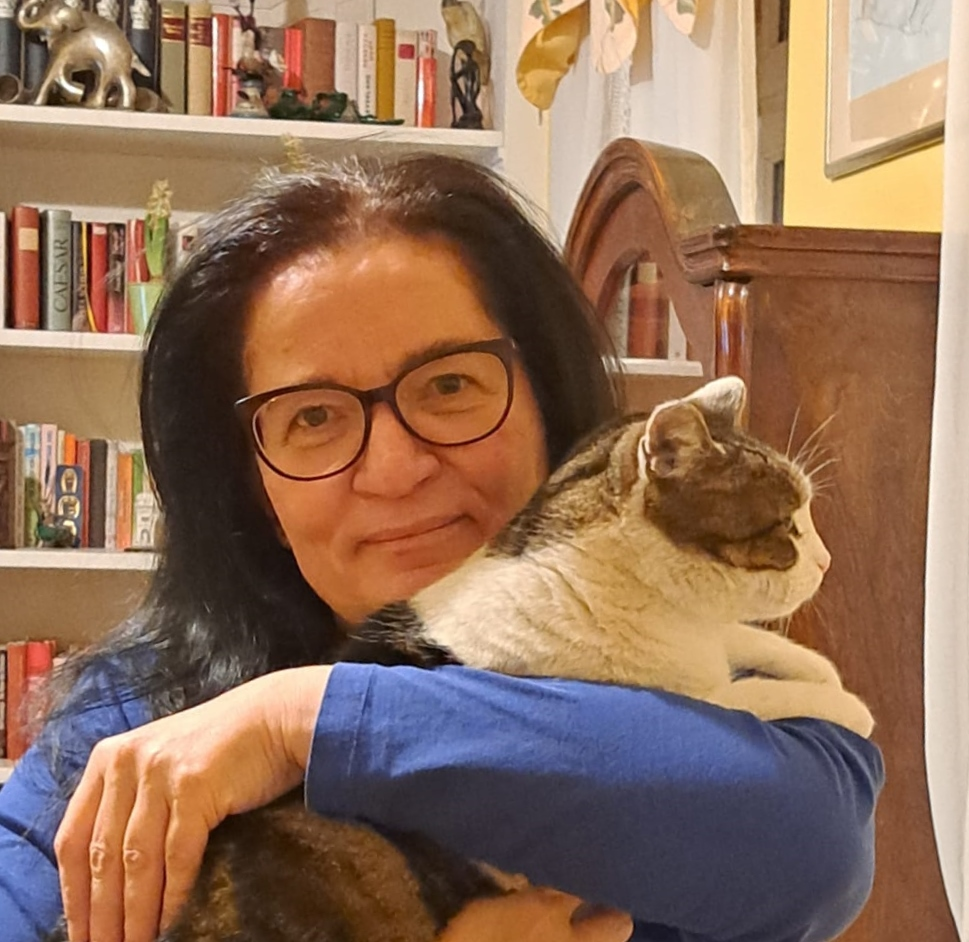 SHORT FACTS
Name: Angelika Glaser aka Angelina Bambolina
Age: 55
Lives in: Bad Vöslau, Austria
Occupation: Publishing lecturer
Known for: Handmade Sindy outfits (and a great collection of Sindy dolls and items! TLSM's comment)
Favourite Sindy: Active Sindy
Questions and Answers
1) Q: How did you first discover Sindy? A: My sister got her first Sindy doll at the age of ten; I was refused to get more dolls because I was already twelve years old. So I saved my pocket money and bought me the 1977 Sindy Superstar, the iceskater, in our wonderful local store which also offered toys – and Sindy stuff.
2) Q: How old were you when you got your first Sindy? A: Twelve.
3) Q: What model was your first Sindy? A: Active Sindy, 1977 Sindy Superstar Iceskater.
4) Q: What kind of Sindy/Sindy item did you dream about as a kid? A: None, I was content with what I could afford from my pocket money and was available at our toy store.
5) Q: What kind of Sindy/Sindy item do you dream about now? A: I'm probably a bit unrealistic and immodest, but if I could get some more Trendy Girls and their outfits…
6) Q: What led you into your Sindy career you have today? A: My daughter! I had kept my modest childhood collection in a time capsule for decades. When my daughter was aged four, we opened the magic box…
7) Q: Can you mention three people you think helped you there? A: Too many, so that in order not to risk forgetting and offending someone, I do not want to mention anyone.
8) Q: Do you have a special goal for your Sindy work? A: As a qualified archaeologist, I have perhaps a methodical or systematic approach: Dolls that are halfway in good to well-preserved – after cleaning and styling – stay as they are, get clothes and accessories from their "year of birth" if possible, and should someday complete documentation from 1974 to 1985/86 is my thematic focus. These dolls make up the bulk of my collection. Another theme is the ballerinas, these are the best preserved dolls. They also have original outfits, but are occasionally dressed in their own creations and are a special concern of my daughter, who dances ballet. The third theme are the dolls with issues: as I was taught respectful treatment of originals, I can't bring myself to throw away original material unless it is completely broken and unusable; these dolls are the basis for my OOAK dolls with re-rooted hair, for my dyeing experiments and so on… And of course: designing and sewing outfits for the dolls!
9) Q: Can you mention three people you think of as doll influensers? A: Too many, so that in order not to risk forgetting and offending someone, I do not want to mention anyone.
10) Q: What do you love/like/appreciate about Sindy? A: All for what she has been loved/liked/appreciated for more than 58 years!
THANK YOU Angelika for your amazing work and for taking the time to answer all the questions!
February 2022
Angelika is mostly known as Angelina Bambolina in the Sindyvers. She is an active member on the Facebook group "Vintage Sindy Collectors" where she shows a lot of photos of her beautiful Sindy dolls and outfits. See below: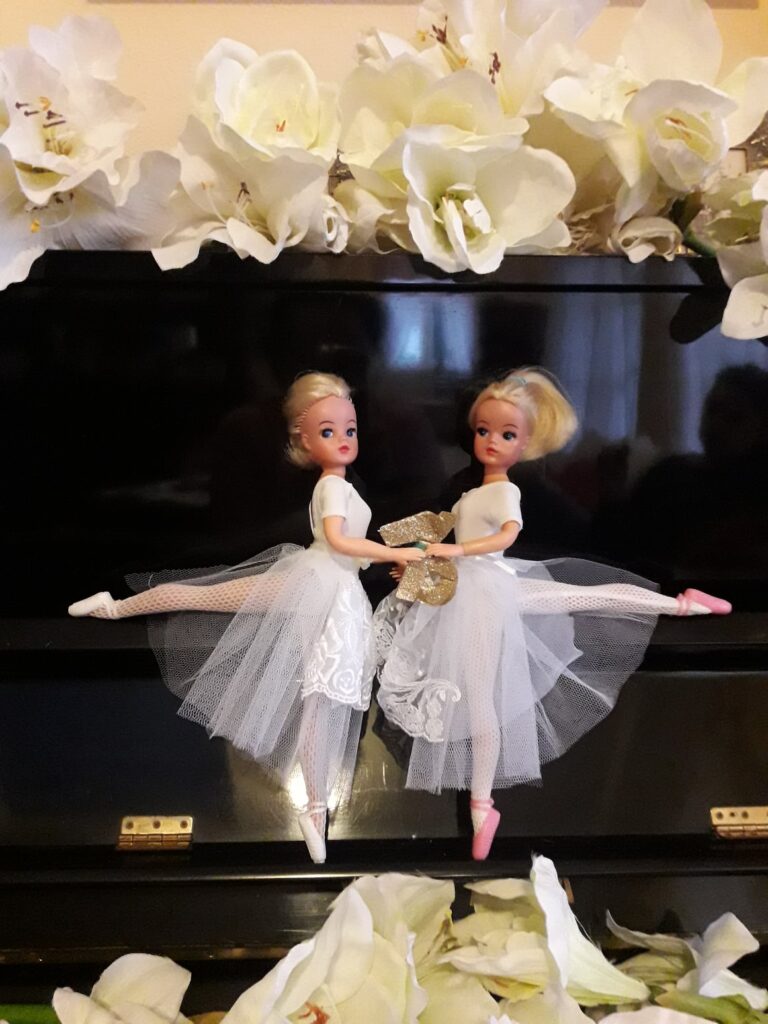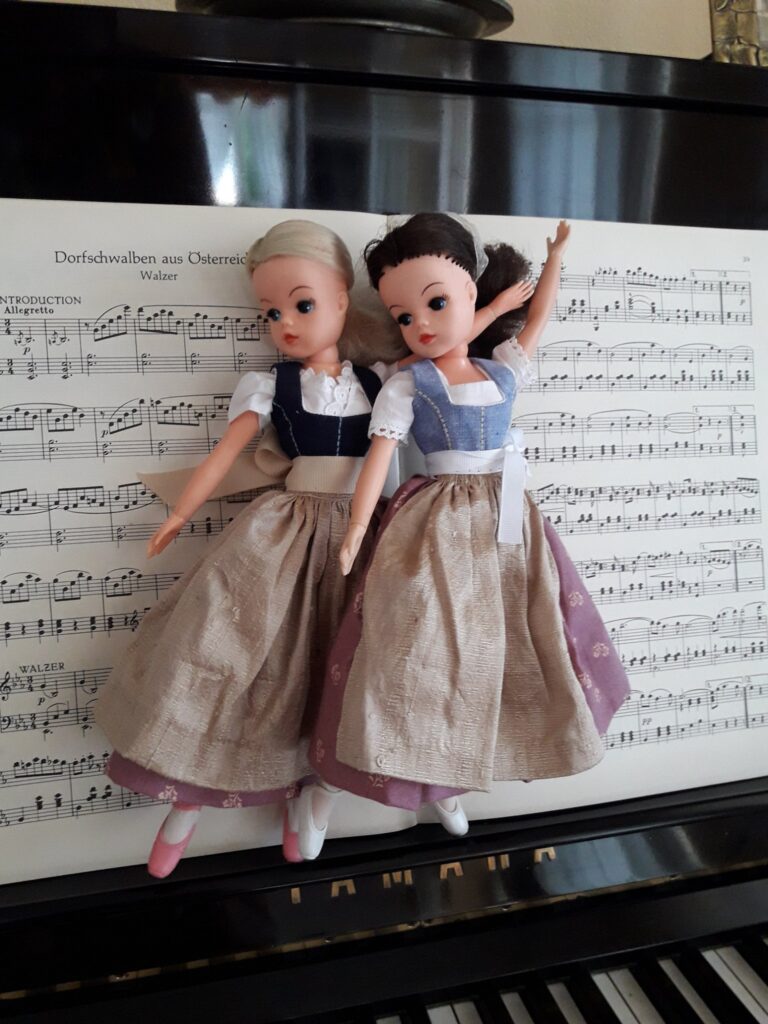 Angelika was also one of the first to use RitDye to create OOAK Sindys, looking like the very much loved an sought-after Marx Gayle doll.
She has kindly made a Step by step "HOW TO DYE YOUR SINDY" for TLSM's visitors to take part of. The text and photos below are Angelika Glaser's own.
01
Prepare all the necessary ingredients: RitDyeMore paint for synthetics, a large pot, dishwashing detergent, rubber gloves, cloth that can get dirty, kitchen paper, large wooden spoon that can also get dirty, wooden sticks to stir, large tongs to take the parts out of the pot; tools for disassembling and assembling the doll: pliers, scissors, screwdriver, crochet hook.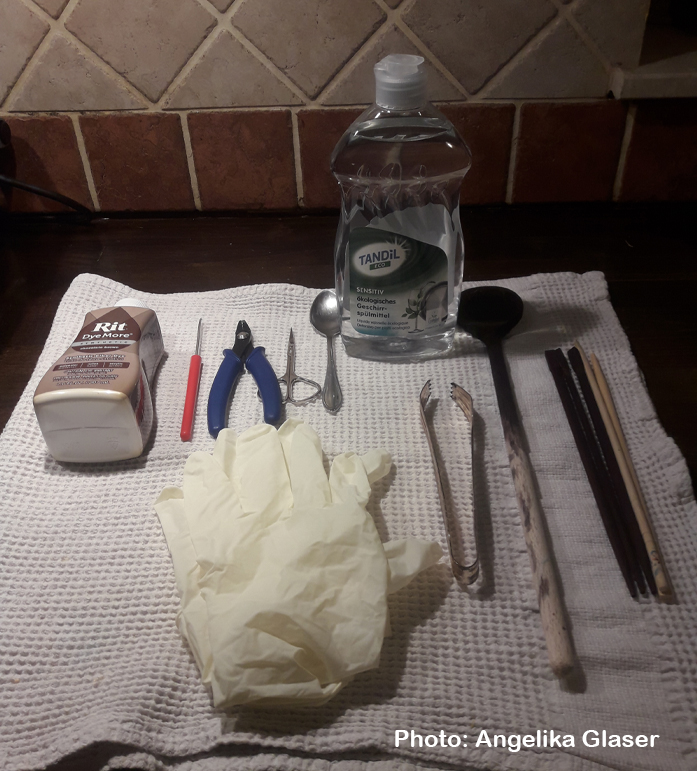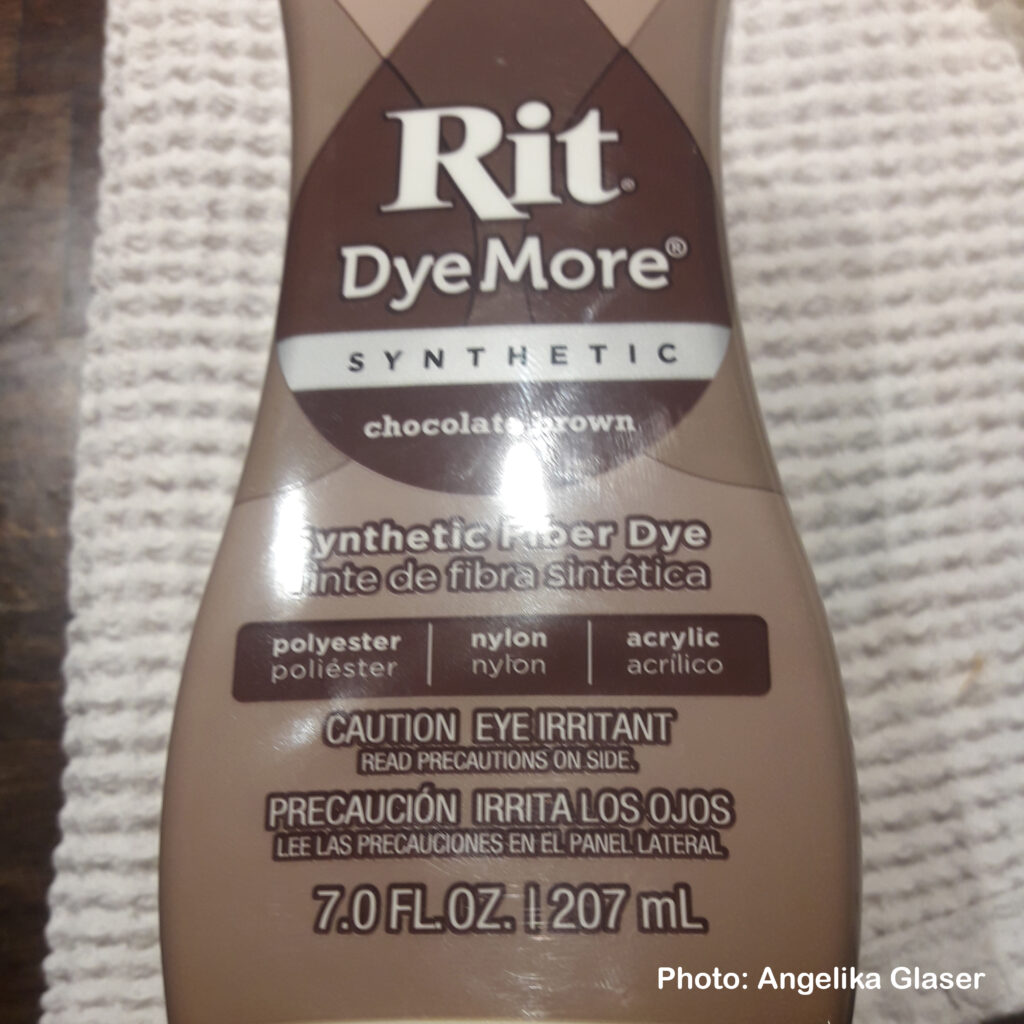 02 
RitDyeMore colour is available in different colours, I always buy it at amazon. Make sure that you use RitDyeMore for synthetics, the common one will not work.
For further informations, go to the website https://www.ritdye.com/how-to-dye/
03
Prepare a place where the colour can drain without making serious mess, for example the sink.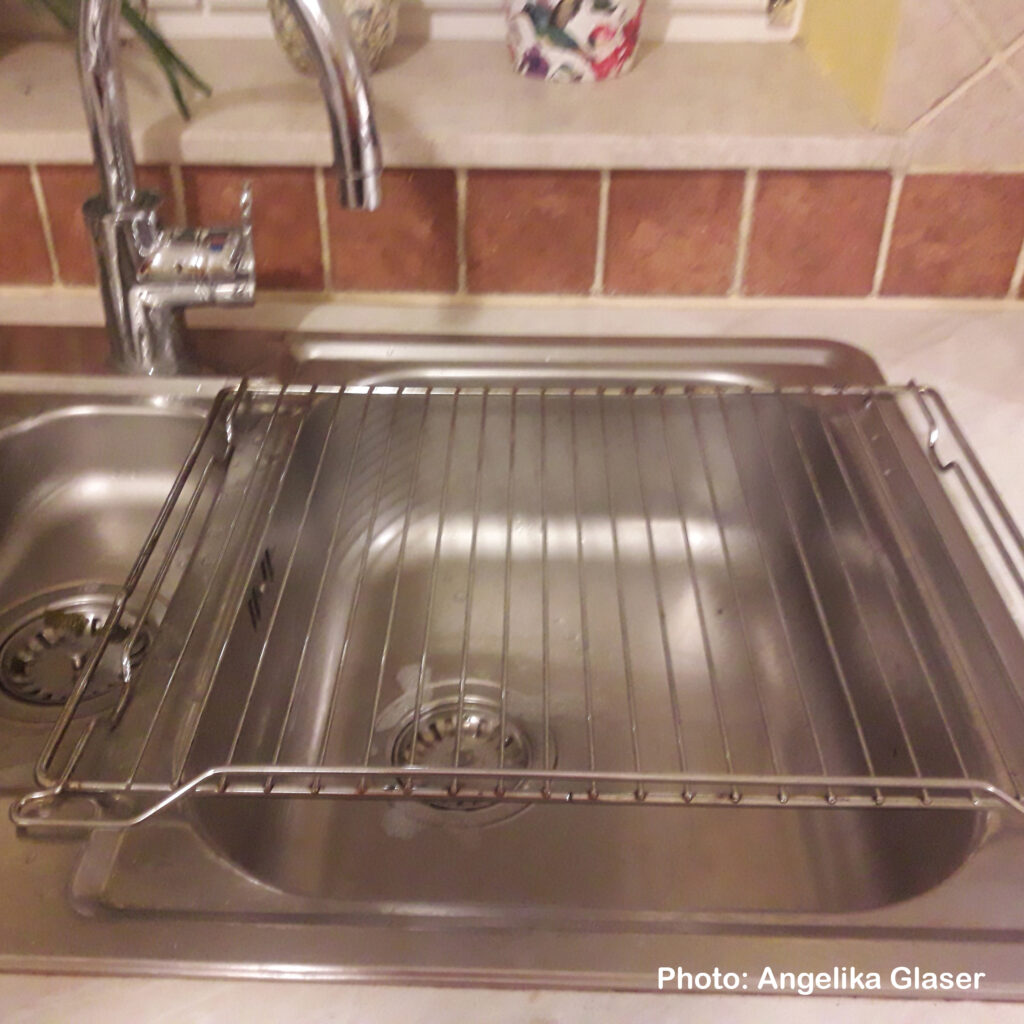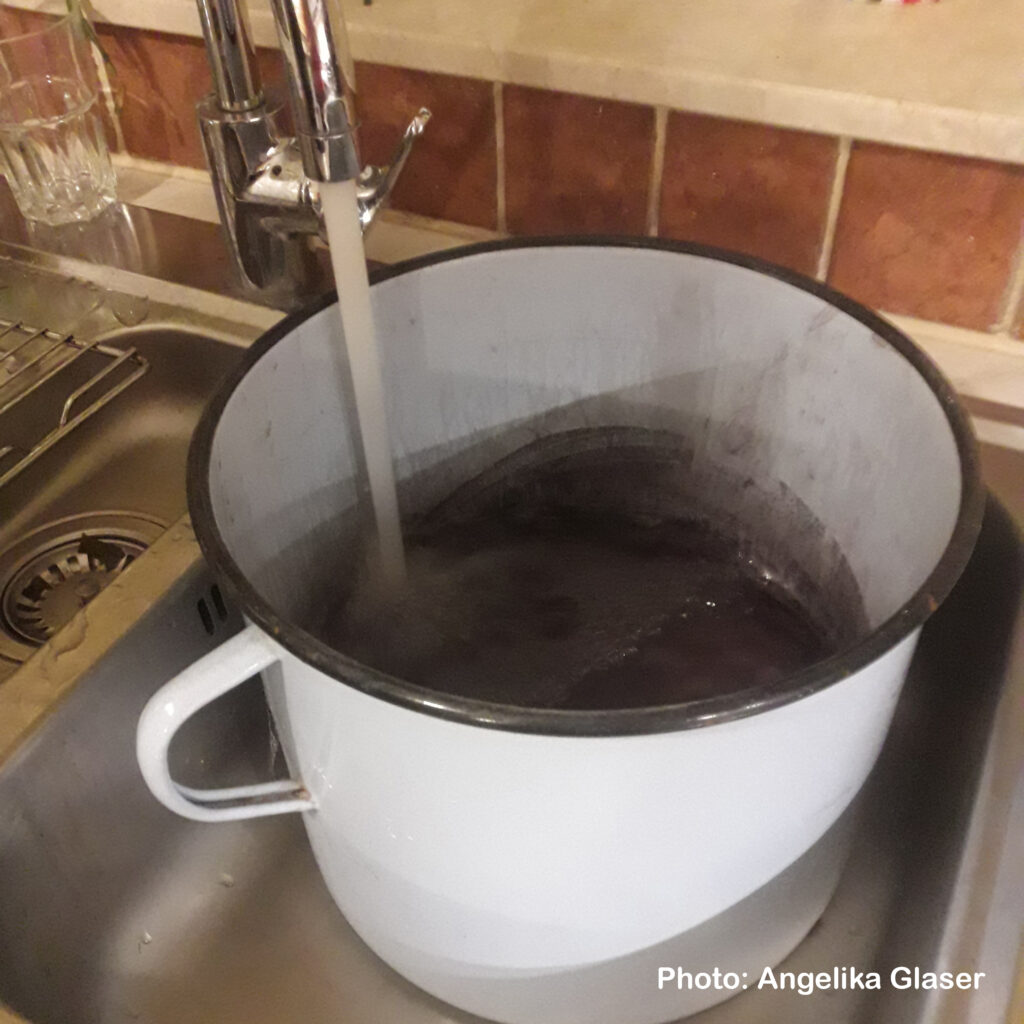 04
Fill the largest possible enamel or stainless steel pot with water so that all the material to be dyed can float loosely in it, in the best case, you have a pot you only use for dyeing.
05 + 06
Prepare the doll: as the different qualities of plastic will accept the colour in different speed, separate the doll's parts as far as possible: remove the head, the arms, the legs and when you have an active Sindy, also separate the hands from the arms. It is not necessary to protect the original face painting, normally it will keep its colours; you can also keep the original hair and dye it.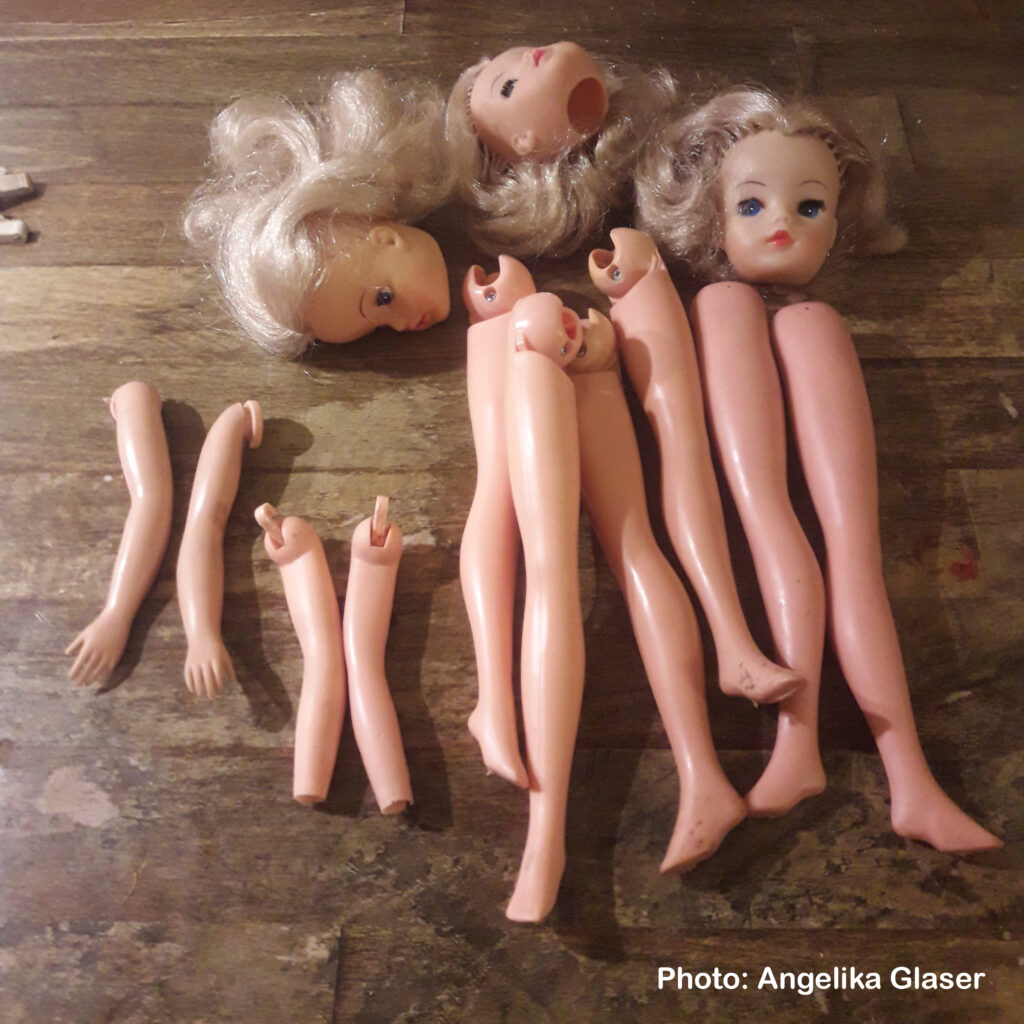 07
Bring the water near to boiling; the temperature should stay at that level during the whole dyeing process.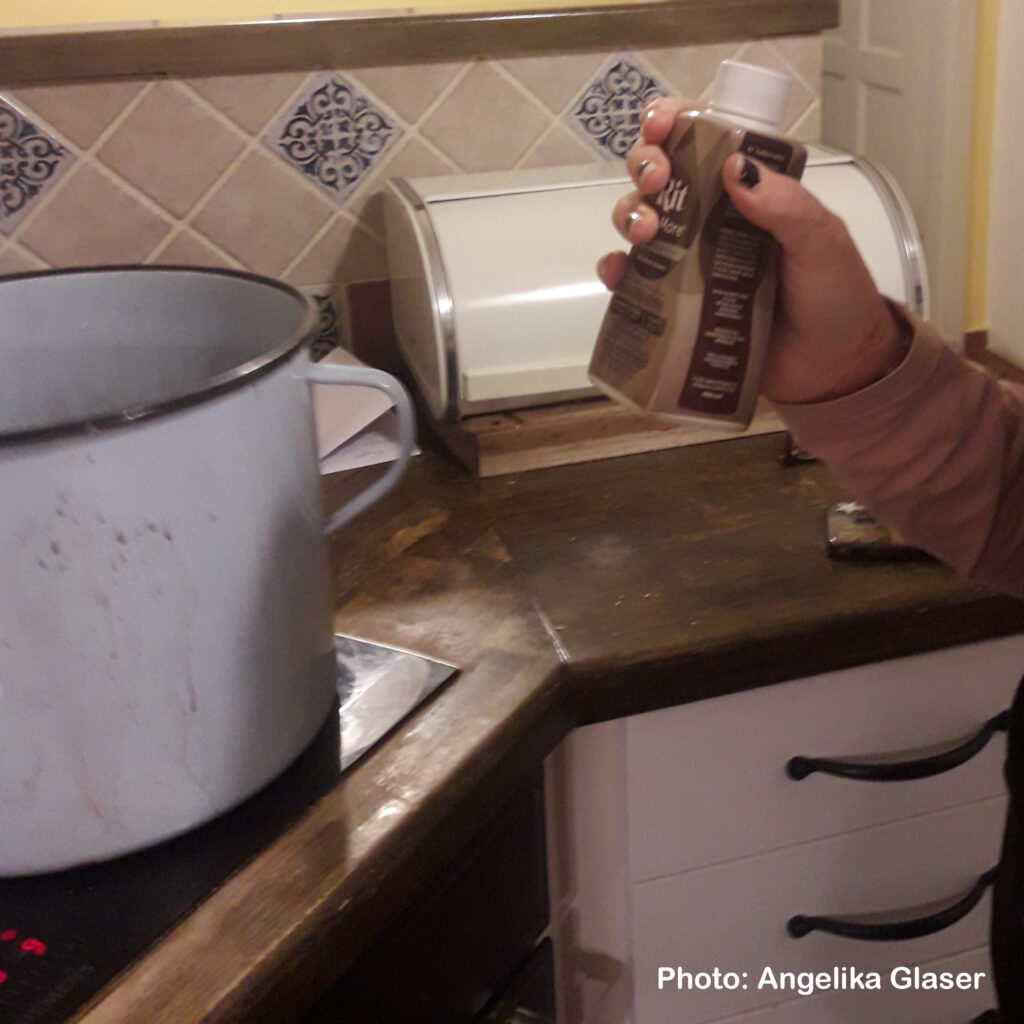 08
Shake the bottle with the colour well.
09
Then pour into the pot and stir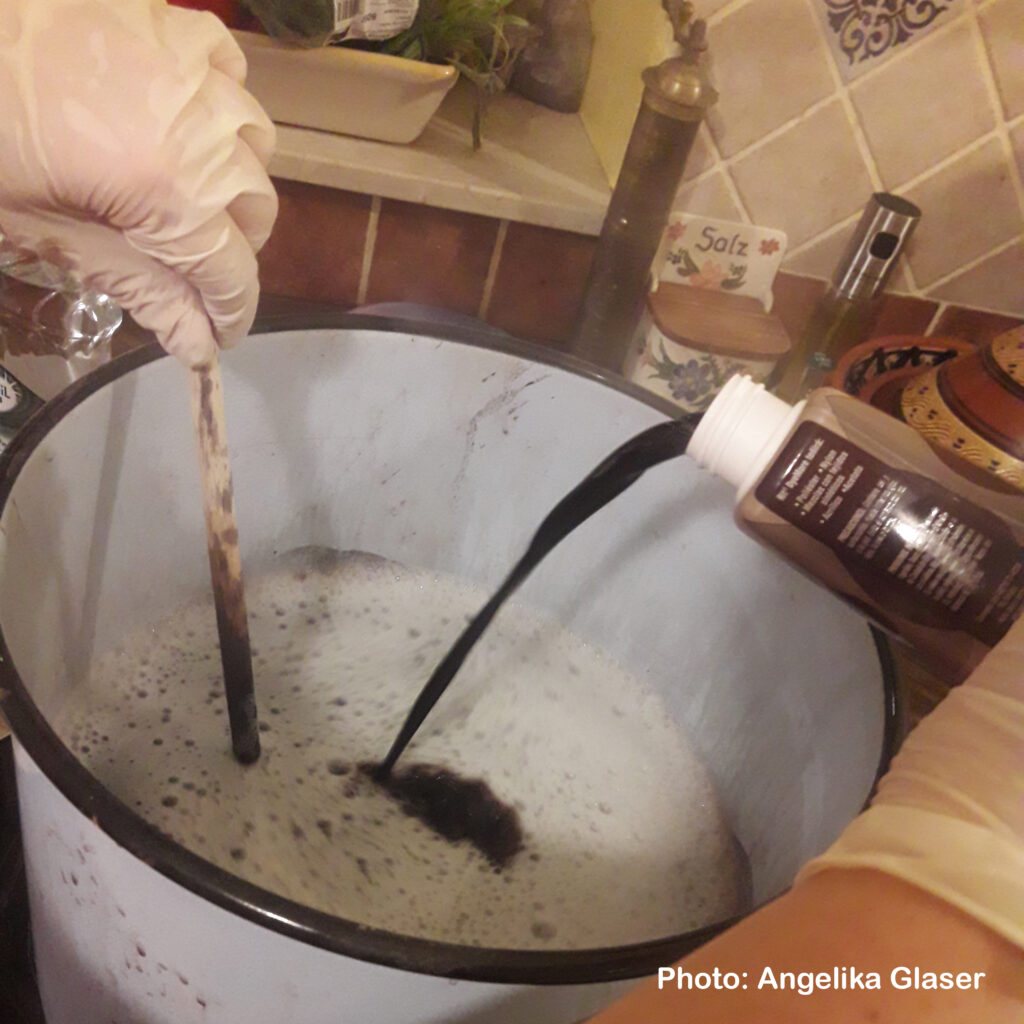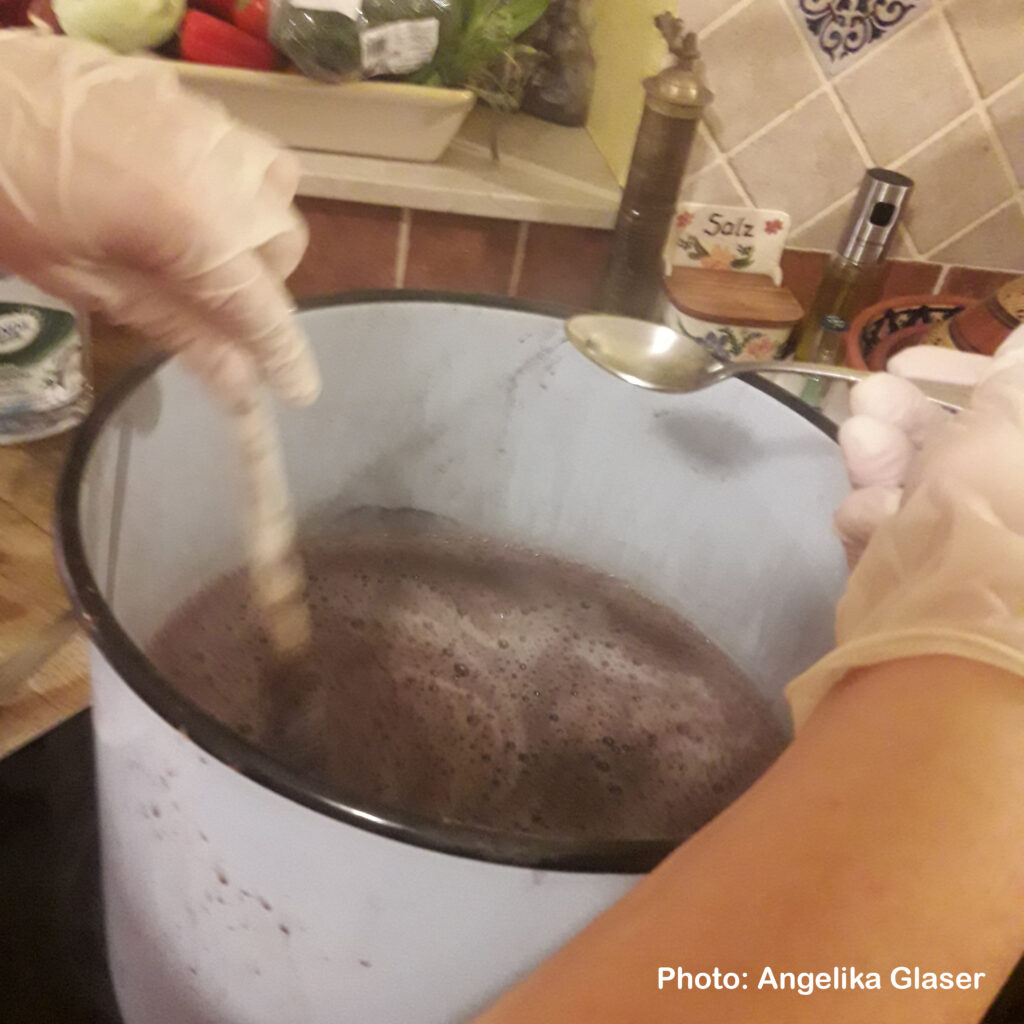 10 
Add one teaspoon of liquid dishwashing detergent.
11
Put the doll's parts into the pot: start with the parts from hard plastic (torso, hands) as they need the most time to get dyed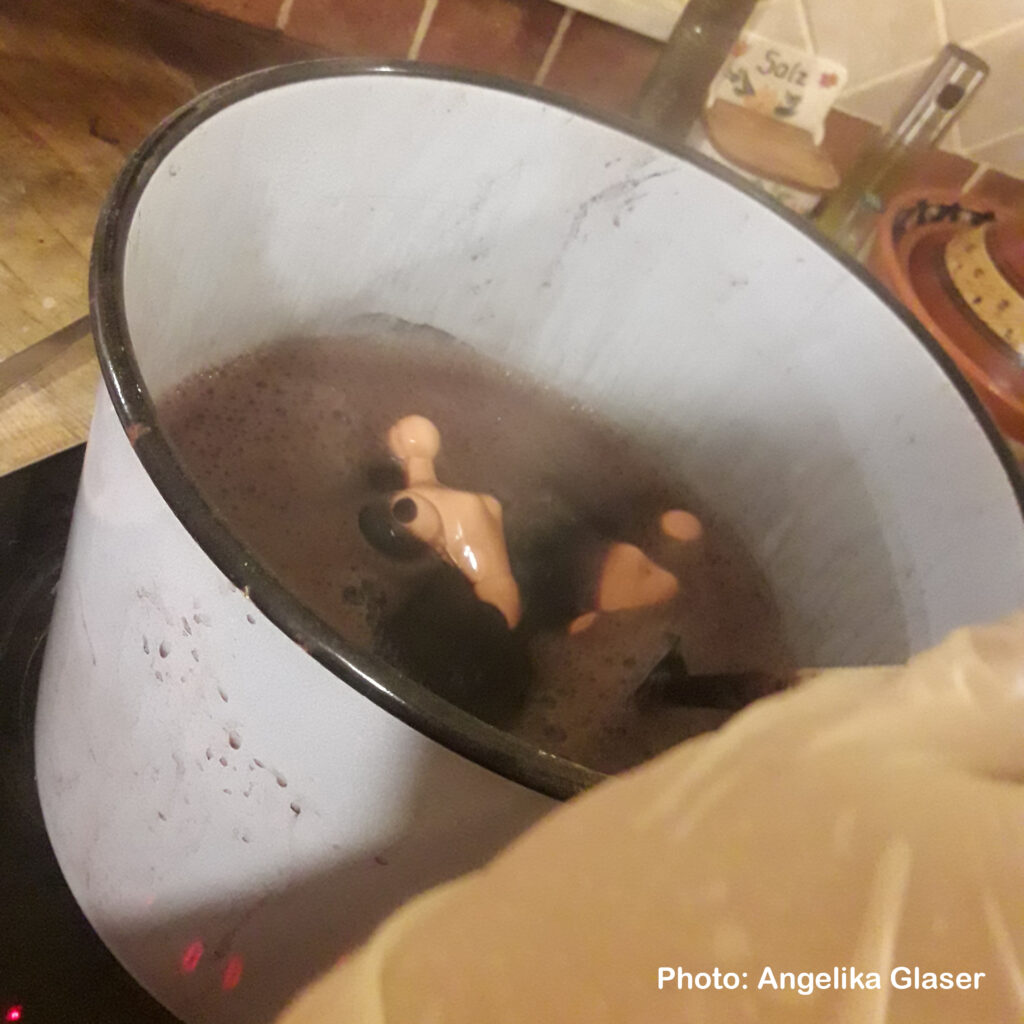 12 + 13
Then add the soft plastic parts: head, arms and legs – please control in very short intervals, if the colour is intensive enough, it works very quickly!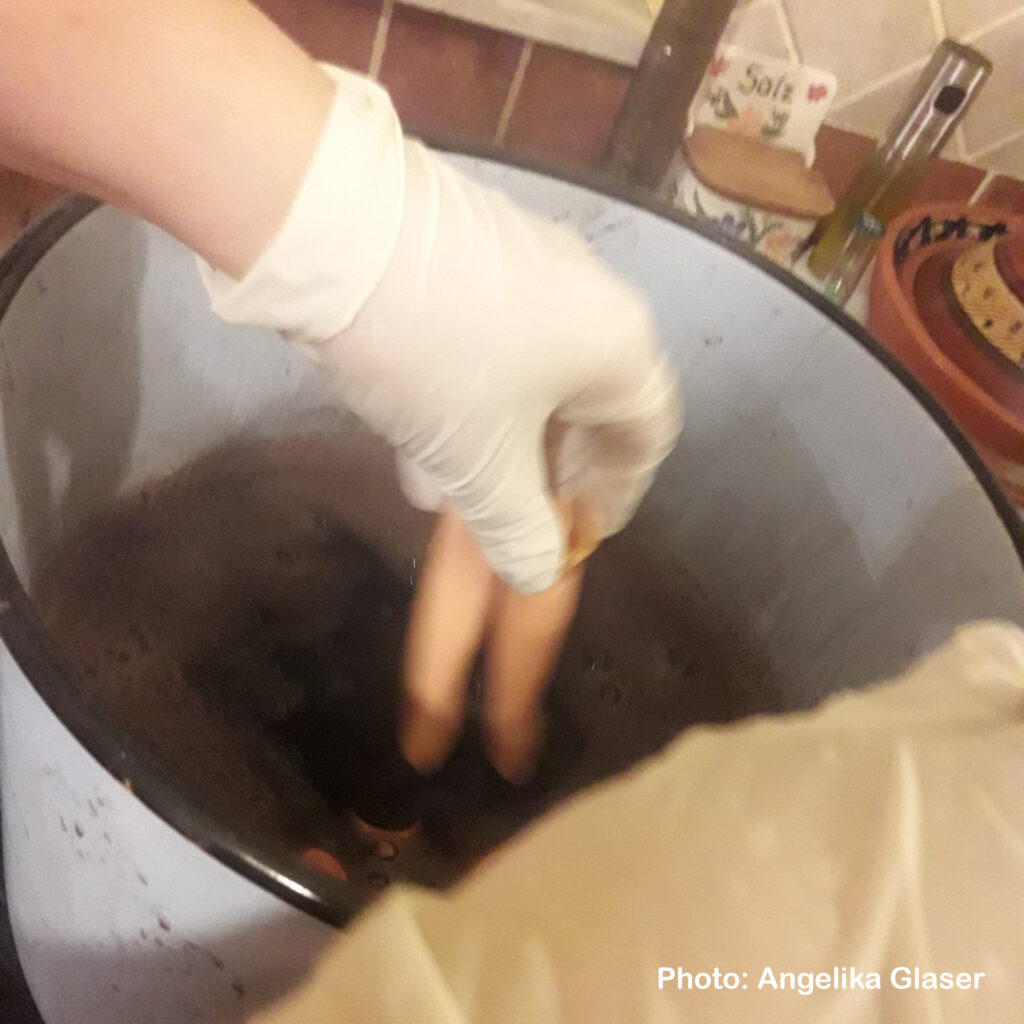 14
The hair also takes on the colour quickly and well.
15 
During the dyeing process make sure that all parts stay "under water" the whole time, stir time by time and keep the temperature of the water equal.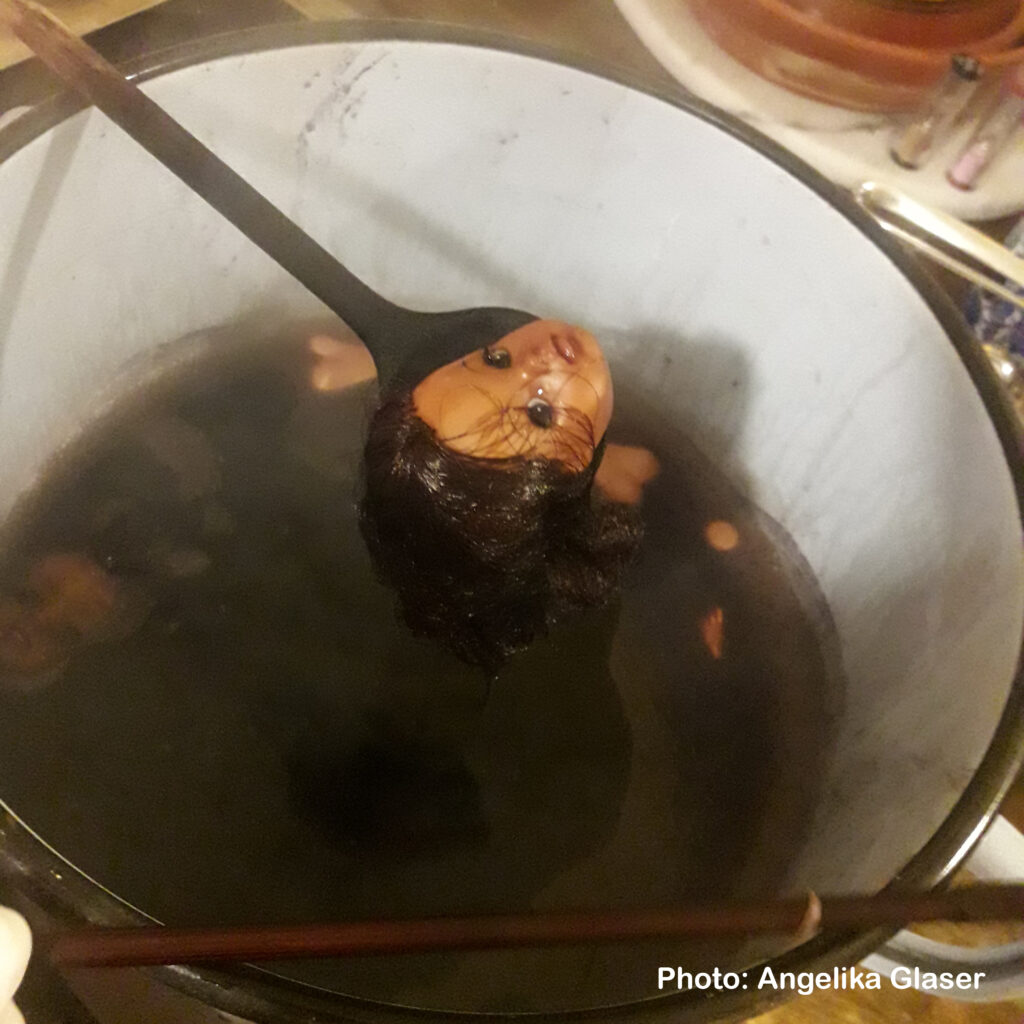 16
When you are satisfied with the intensity of the color, lift the parts out of the dye bath with a wooden spoon, tongs or a similar tool – be careful not to burn yourself, the parts are very hot!
17
It is best to allow the parts to drain and cool on a grid and then dry them with kitchen paper; you can also rinse the parts with cold water, this means that any paint that may still be present will run off and the parts will cool down more quickly.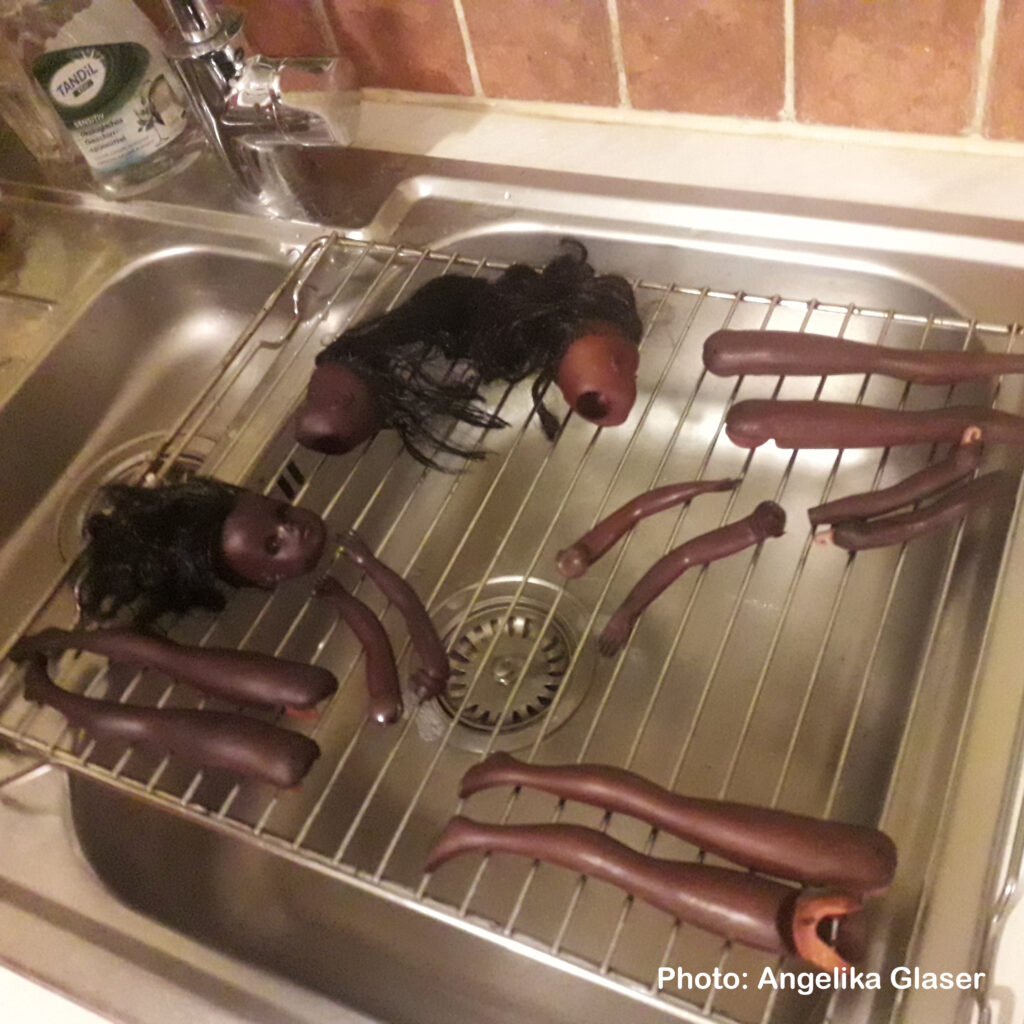 18
When the hair has dried, put the doll's parts together. Correct the face painting if necessary. Then all you have to do is style and dress the doll – done!
Thanks for this excellent and pedagogic step-by-step help Angelika!
TLSM has also been given one of Angelika's lovely RitDyed Sindys. We are calling her Angie! Visitors can look at her irl at the museum or here on the website below: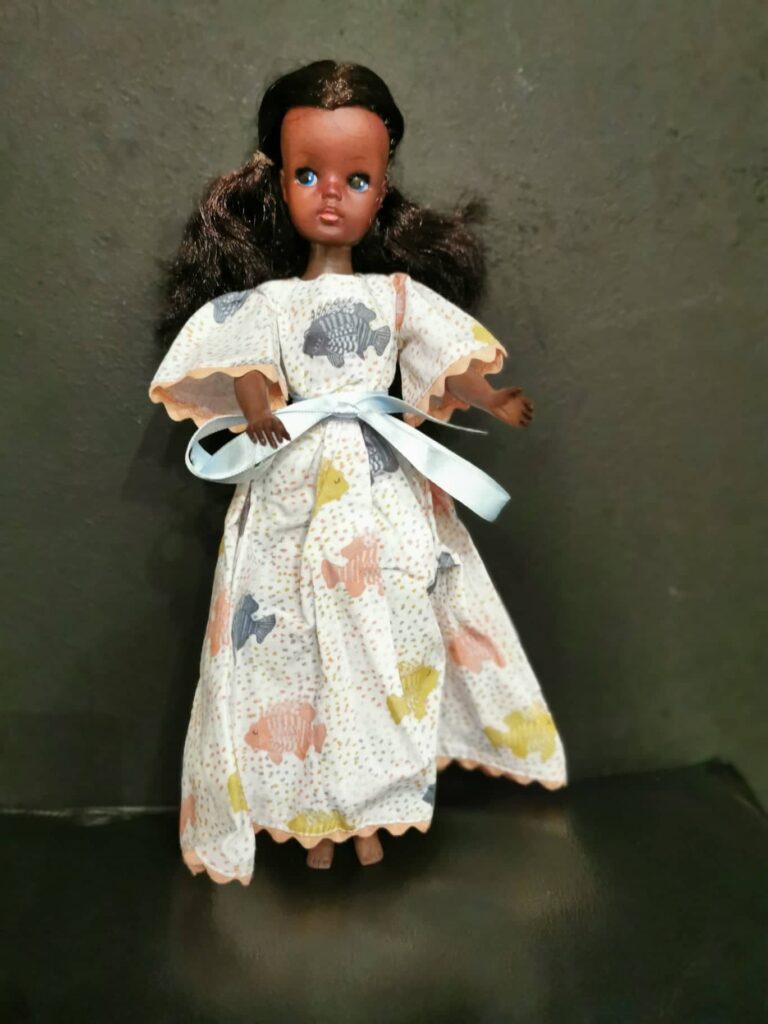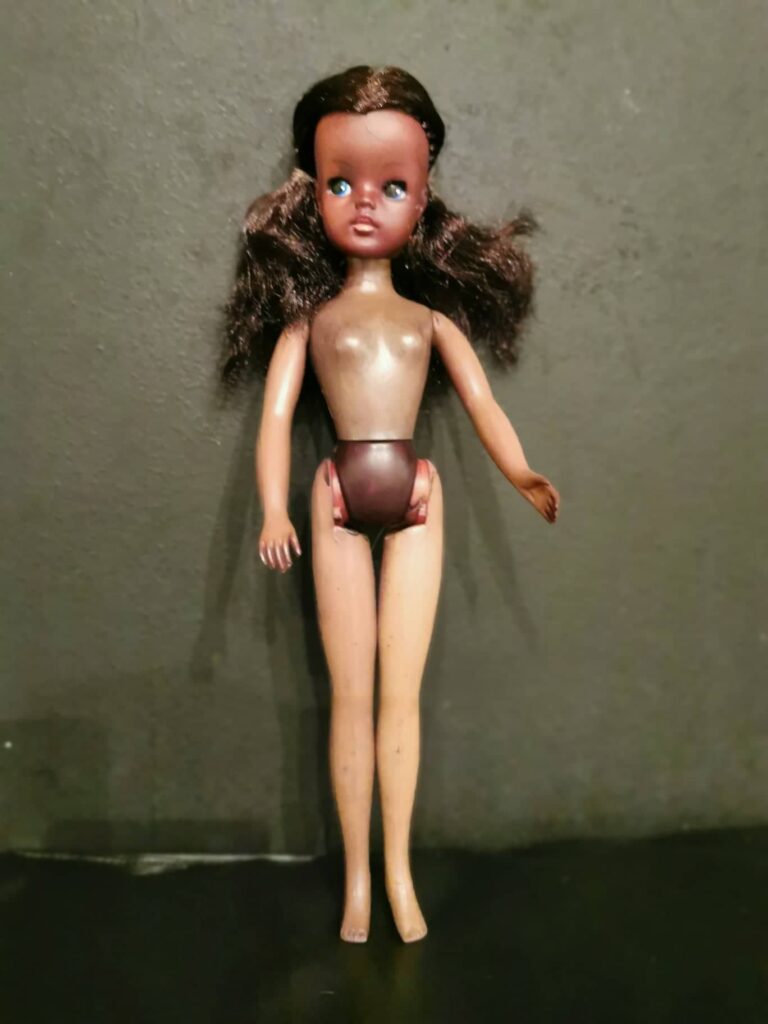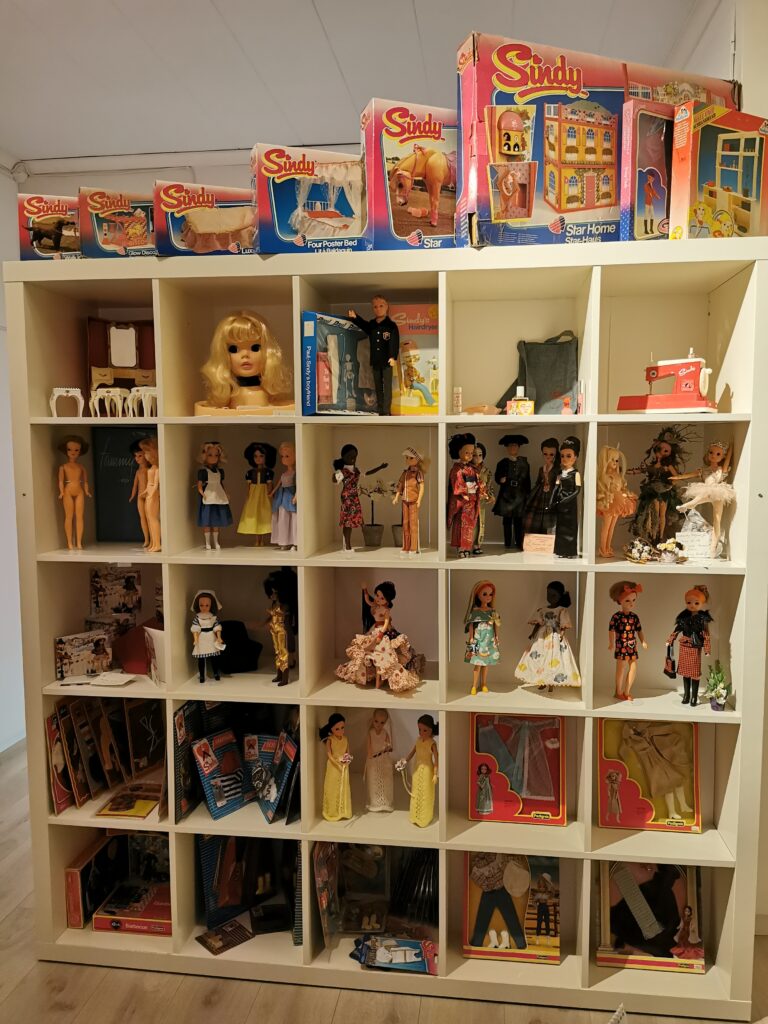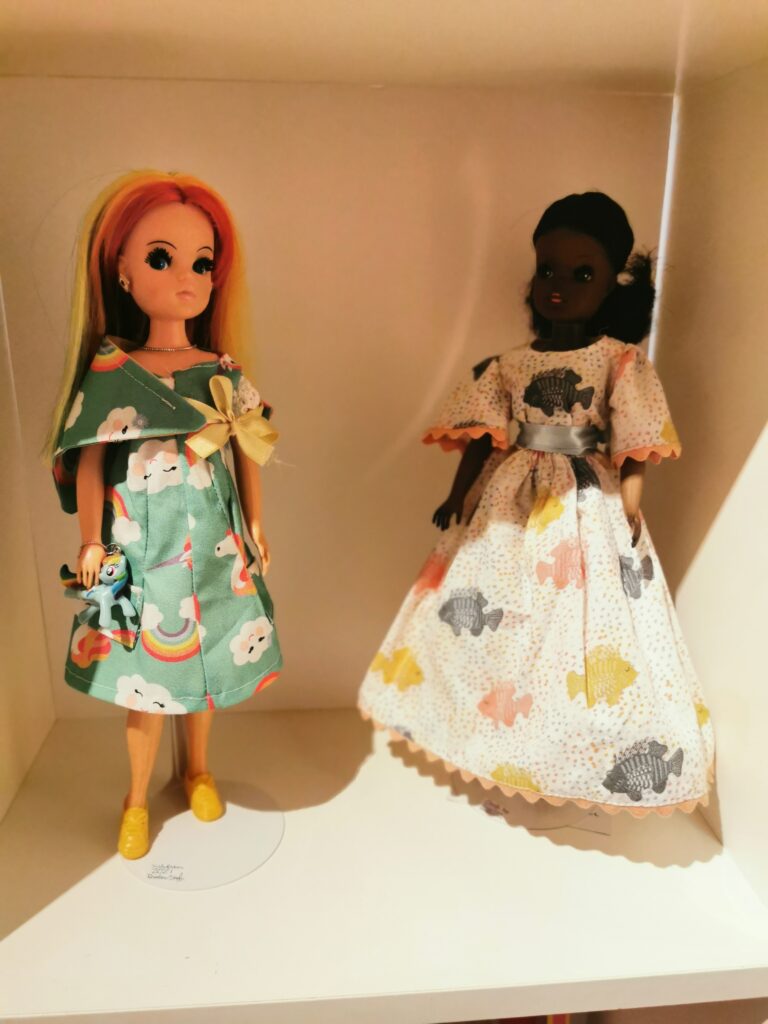 Once again a huge thank you, Angelika, for everything!