Questions and Answers
1) Q: How did you first discover Sindy? A: I remember seeing Sindy in the shops in the 1970s when I was very young – and the girl next door had Sindys – My Action Man would meet her Sindy for dates walking along the fence between our gardens! Very romantic…
2) Q: How old were you when you got your first Sindy? A: As a boy sadly a Sindy of my own was forbidden! I had won a prize of £7.50 at a street party celebrating the Queen's Silver Jubilee, and was allowed to buy a toy with it. I was six. I saw 'Funtime' Sindy – in her denim A-Line dress and it was love at first sight! But I was not allowed to buy her – devastated!! I raised hell but to no avail!!! So I settled for a Playmobil Wigwam and Indian Chief! My other favourite toy was Playmobil. And I do have that Funtime now, boxed, she is still a favourite!
3) Q: What model was your first Sindy? A: The first Sindy that was truly mine (not borrowed!) was actually a 1976 Lovely Lively, I found her at a Car Boot Sale, on the ground in the mud! I was 20! I bought her, restored and cleaned her up, went back the next week, found some clothes and the red '70's leather look armchair, and so a collection started which has continued to this day! I still have that Sindy. And the armchair!
4) Q: What kind of Sindy/Sindy item did you dream about as a kid? A: I remember for some reason the China Cabinet fascinated me… and the Dining Table… all the plates and cutlery were so realistic, and the little butter in the dish to me was amazing! And the Airport Trolley – I LOVED that and would have killed for it! Doll wise I loved the Superstar Ice Skating Sindy – still do! I always preferred her to the Ballerina .. contraversial!! Her hair was a lovely shade of blonde and I liked her skates and Winners Medal.
5) Q: What kind of Sindy/Sindy item do you dream about now? A: I would love to find the early 1970's Super Sounds Sindy with the guitar and amplifier… the holy grail!
6) Q: What led you into your Sindy career you have today? A: I guess not being allowed a Sindy all those years ago! I love fashion, fashion dolls, miniatures, movie stars and vintage – to me Sindy covers all these things – she fires my imagination. I love collecting, designing clothes for her and creating a mini world on instagram – I have met great people through collecting and insta, and had great fun creatively!
7) Q: Can you mention three people you think helped you there? A: My friend Andrea who introduced me to Instagram, my Grandmother who taught me to sew and encouraged my creative side, I owe a lot of my fashion design career to her. And my friend Kat who has always been supportive and interested in my collecting and hasn't looked at me as though I were a complete lunatic!
8) Q: Do you have a special goal for your Sindy work? A: I think to make @dollsabouttown as good as I can… I want people to really love looking at it and smile! I have a few ideas for maybe producing outfits, I also would love to freelance for Sindy sometime. I did a little bit of freelance on Sindy about 20 years ago – mainly storyboards and fashion trend research. It wasn't a good time for the brand, I remember some prototypes I had made being sent to Marie Claire magazine to be featured … but they were used in an article on adultery! Sindy HQ were not happy and I was mortified. I did some other doll design work round that time and then got busy with fashion design contracts. I have worked for several UK brands since – Coast, Jigsaw, Jenny Packham, Ghost and most recently Hobbs, among others.
9) Q: Can you mention three people you think of as doll influencers? A: Instagram wise I would say @dresslikeasindy, both Bonnie's insta and her Mam'selle Magazine are amazing. I also love @sindythetraveller, as do many collectors! Otherwise I have to give a shout out to Collette Mansell. Although her book The History Of Sindy has these days been criticised for errors and missing items – let's not forget she researched that book pre-internet and at a time when Sindy was a bit out of fashion. It was near to impossible to find info on Sindy before that book. It made us collectors realise there were more of us out there and it was so pivotal I think in increasing the number of Sindy collectors, ultimately creating a community as ebay and social media came along a little later. So, thank you Collette, it can't have been easy!
10) Q: What do you love/like/appreciate about Sindy? A: Firstly I love Sindy's face – it is so lovely and captivating and has the vintage look – so happy she has returned in her original form with the new dolls. Then the fashions – I love 1983-1985 the best – that whole era was quite extraordinary. The realism and detail that Pedigree put into the scenesetters too, and the high quality of the accessories is a big thing for me. I am lucky enough to remember when Sindy was a mega-brand and there would be an entire wall of Sindy products in Toy stores! She had everything! Just amazing! To me Sindy is a place where we can forget about the world for a little bit and escape! Long may she continue!
Anything else you'd like to share with us? I'm doing a collaboration with The Little Sindy Museum helping Martina writing down my own knowledge and information. I also let her use my photos from my favourite Sindy era.
From @dollsabouttown's Instagram: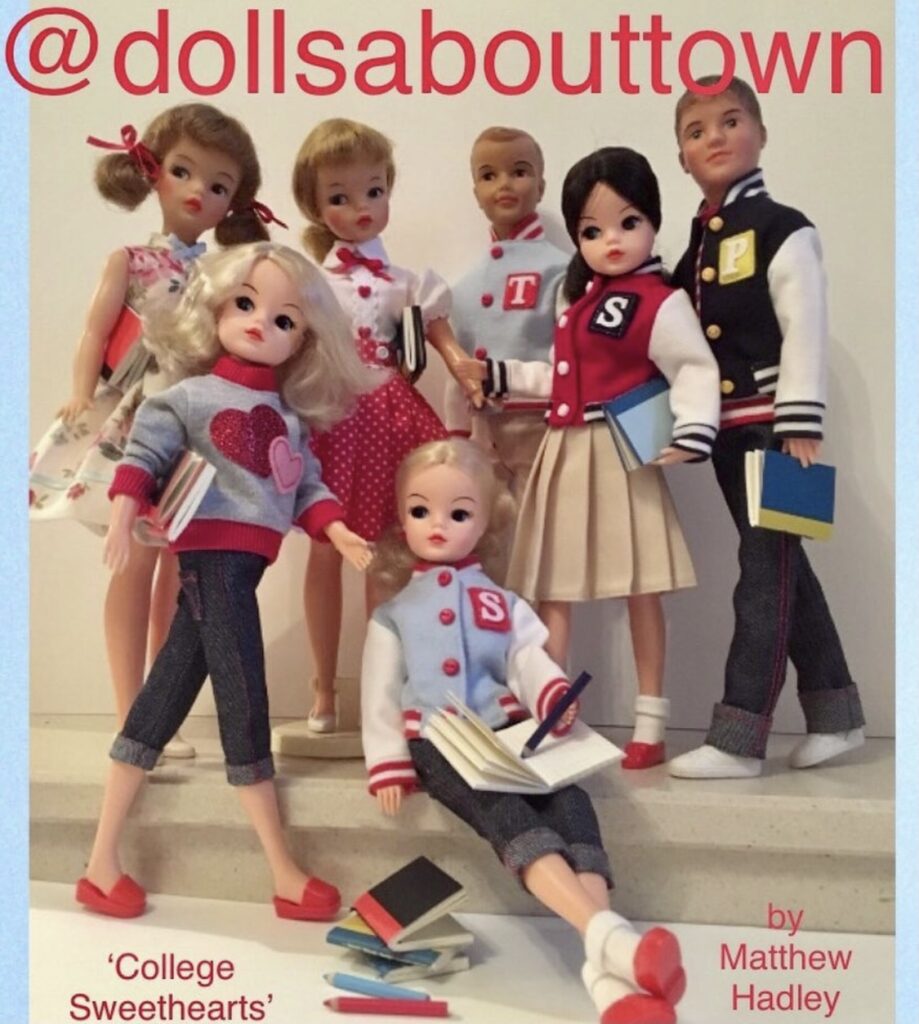 Matthew about the photo above: 'My debut collection 'College Sweethearts',designed and made for fans of vintage Sindy, Paul, Tammy, and Ted! This collection echoes the styles of late '50's and early '60's college life, perfect I think for our beloved vintage fashion dolls who emerged in the same era. There are college jackets, tee shirts, denim jeans, skirts, blouses, sweatshirts and dresses – all made to a high standard with attention to detail and every garment tagged with the @dollsabouttown label!'
Matthew says (regarding the photos right below): 'This doll was a custom project – the doll had suffered a horrific haircut at the hands of a budding young hairdresser, so I re-rooted her and created the outfit and box. I had been to New York a few times at this point and so Sindy became a trendy, streetstyle, skater girl! I gave her a bit of an '80's vibe ( my favourite era!) and I added accessories and made a spare sweatshirt. The 'I love NY' tee shirt was actually made from a babygrow that I bought especially as the logo was in small scale. It had the logo printed all over it and I managed to cut it in such a way so I got a tee shirt front! The skateboard was an old keyring that I customised and the Statue of Liberty souvenir was on the end of a pencil I bought at JFK Airport! The burger is an eraser and the flags are 4th July sandwich cocktail sticks! I love how she turned out!'
Matthew has also written a very informative article about the Sindy packaging design! Make sure to check it out here!
Some photos from his collection:
THANK YOU Matthew for your amazing work and for taking the time to answer all the questions!
November 2021