This is just to make the space between the images bigger This is just to make the space between the images bigger
Favourite Sindy: Do you have to choose only one? Splashing Out Sindy, Three wishes Sindy Hasbro.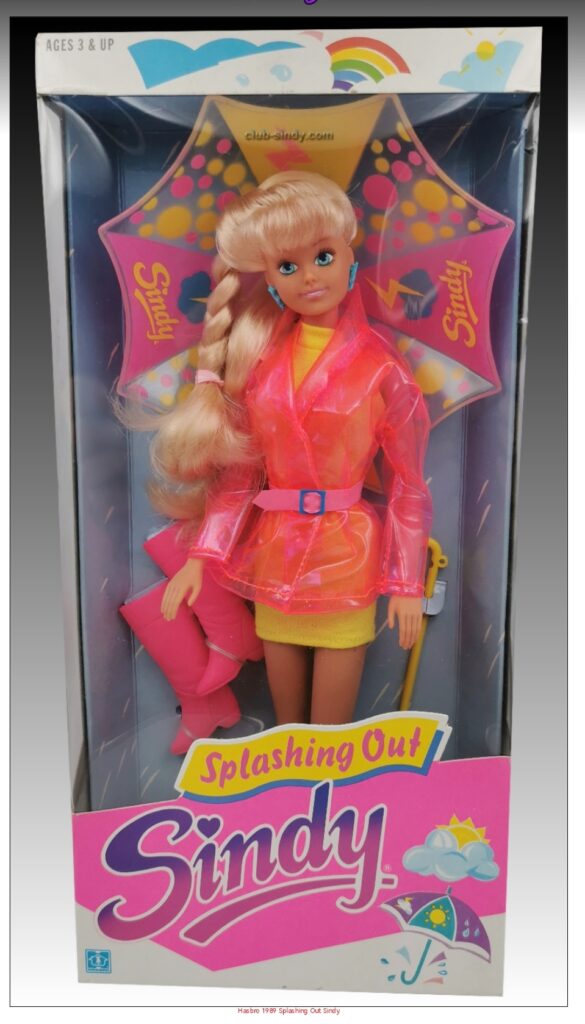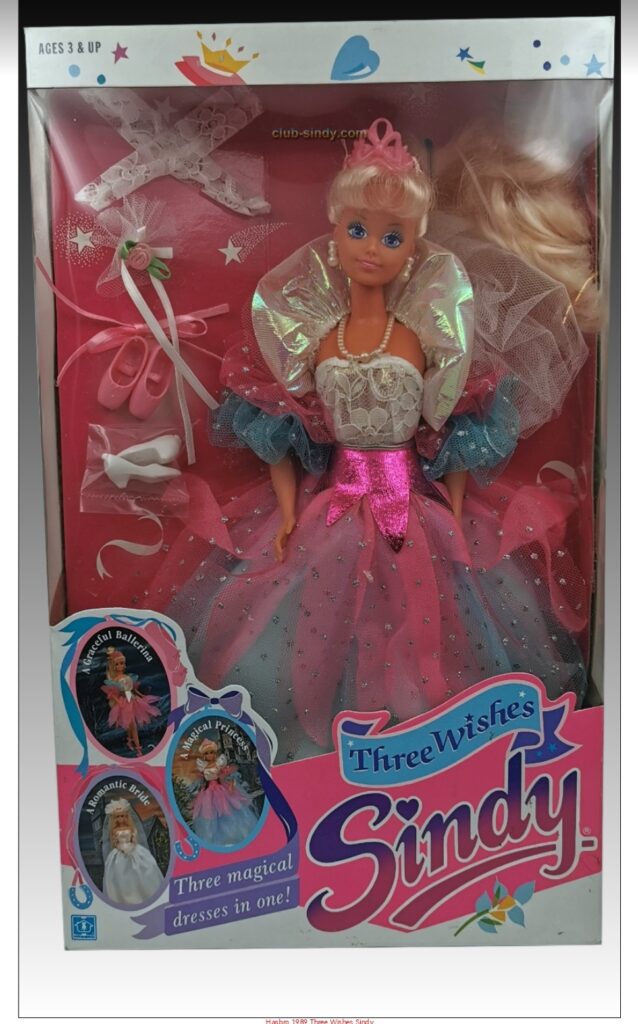 Questions and Answers
1) Q: How did you first discover Sindy? A: The first time I came into contact with Sindy was a bit strange because I needed a model! I took a drawing course and needed a model for the exercises.
Where do you find a model who has time to pose for ages? By chance, I found the solution when we visited a toy store. Sindy. If I can draw a doll then probably I can draw a person in the right proportions.
2) Q: How old were you when you got your first Sindy? A: I never played with Sindy. She became my model. I bought Wedding Day Sindy in 1989 and Three Wishes Sindy the same year. I was 25 years old when this purchase took place.
3) Q: What model was your first Sindy? A: Wedding Day Sindy, 1989.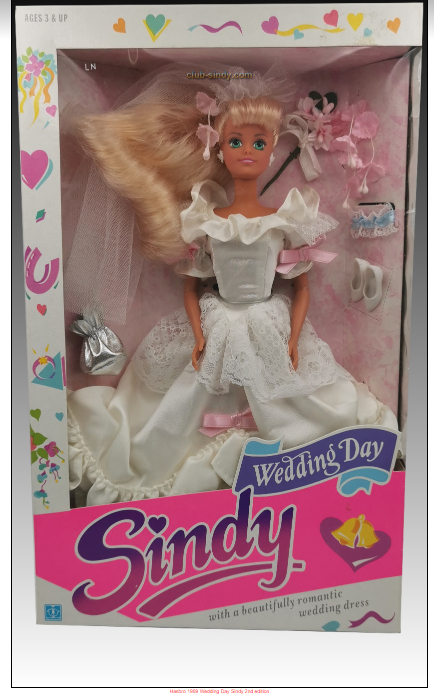 4) Q: What kind of Sindy/Sindy item did you dream about as a kid? A: I'm a bit odd. Sindy became my model so I never dreamed of any doll when I was little. However, she was very cute, so I continued buying Hasbro's Sindy. Unlike Barbie, who wore realistic fashion, Sindy had the advantage of being a doll, albeit a very cute one with not quite so realistic clothes, but rather cute clothes. I liked this better.
5) Q: What kind of Sindy/Sindy item do you dream about now? A: Finding a very rare Sindy model. Hasbro's Romance N Roses from 1987 also came out in 1989 (probably). I held it in my hand but put it back in the shelf. Was going to return and buy it later in the week. By then it was sold out. I have never done anything like that again.
6) Q: What led you into your Sindy career you have today? A: Actually in the late 80s. But in 1997 I placed an ad and offered 1000 SEK for the yellow dress in the Dance Season Collection. It took a few weeks but then came a reply from another collector who wondered what kind of lunatic was bidding so much? However, I got to buy the dress from her and my answer was that if I had placed an ad with 50 SEK, you would not have responded.
About the Club-Sindy website I was the one who created the page. I got help from my brother who taught me code. The entire website is written manually by hand. Right now we have produced over 4000 files for the update made this year (2023). It has also taken about 1500 photographs, included in these 4000 files. Making a video film with a doll takes about 3 hours from filming to setup.
A Sindy club was actually started with collectors from Sweden but also from the rest of Europe. The last chairman of that club was Anita Alfredsson.
Club-Sindy is today over 21 years old, but the club with collectors was disbanded around 2007. The website was practically a ghost page for 15 years. Despite this, the number of visitors was extensive. Most people find it by searching the name and go directly to that page. Visitors also use the Swedish abbreviation Art. No. when they search (Article Number) to a large extent.
For a short while there was a sell and trade page on Club-Sindy for its members. It disappeared when the Sindy club closed down. Mainly it has been me who's always worked with club-sindy.com with some help from two other ladies.
So why did we start the website? At that time, there were no good pages about Hasbro at all. Hasbro's Sindy model was not that loved and many were almost happy that Hasbro failed. Therefore, I decided to create my own website, an ID Guide to Hasbro's Sindy. But the fact was that a lot of people liked her! Sindy Magnifique showed the void Sindy left behind in Sweden. The page grew, became the basis for it collectors club that existed. Everyone who liked Sindy gathered here, regardless of whether it was Pedigree or Hasbro. The rest is history.
Our view was also that Barbie never out-competed Sindy! It may seem controversial but we felt that the conservative position of those responsible for Sindy as a product were stuck in the 60s and 70s. They never managed to bring Sindy into the 21st century. What we invoked was the digital market, film, games but also the advertising and marketing was outdated among other things.
Sindy had a bad general staff, you could say. That's why she lost the war! Just like the car industry, you don't remove a popular car model overnight and replace with a new untested model before knowing how it is received. Otherwise, you risk losing market share. Or like as we expressed the matter to New Moon's design manager: "You can't adapt consumers to the product. You have to adapt the product to the consumers' requirements!"
Two countries accounts for over 50% of the visits on the Club-Sindy website. These are Russia (the Barbie club there, among other things) and the USA! It's fun that the site is so appreciated by the collectors there. In Russia, the Susy doll also seems very popular! A lot is written about her and Sindy! But everyone is welcome to Sindy and Susy's world!
Today there are two of us working on the new site. I have done 80% of all the work! The dolls you can see on the website are in our collections. So we own them all. Unfortunately, my friend has been the victim of theft and a few dolls have disappeared. Which affects also Susy's and Sindy's ID guide. No very special dolls but it's not fun anyway…
One fun fact is that a well-established singer in the music industry stepped up and lent her voice to Sindy in Sindy's Disco song. She played with Sindy when she was little and was kind enough to pitch in. The condition was that she had to remain anonymous. We still respect that today!
7) Q: Can you mention three people you think helped you there? A: Unfortunately I ended up here self-inflicted!
8) Q: Do you have a special goal for your Sindy work? A: I thought it was fun to work with PR and wanted to try out some ideas at that time.
9) Q: Can you mention three people you think of as doll influensers? A: No not really. Perhaps David who worked at Pedigree and had designed one of a kind Sindy dolls. He was also a Sindy designer at Vivid Imaginations. I was in touch with him at that time, 20 years ago. If he had been allowed to manage Sindy's design together with Anita Alfredsson, here in Sweden, Sindy had never perished. They were fantastically creative and talented doll artists.
10) Q: What do you love/like/appreciate about Sindy? A: Her pronounced European profile, just like Creation & Distribution's Susy doll. They are so similar, yet not. However, they are both doll cute without making any claim to realism in their fashion.
Anything else you'd like to share with us?
With her (the collector I bought the yellow dress from the Dance Season Collection from, mentioned in Q 6) I began to work on the world's largest Sindy exhibition that has ever taken place, Sindy Magnifique in Stockholm. Basically everything that had been produced from the first Sindy doll in 1963 until Funskool was included, including accessories. The vernissage was in December and fittingly the English school visited The Toy Museum at Mariatorget on the same day. The exhibition was a success. After the exhibition, we learned from Hasbro's European manager that we had given Sindy more PR worldwide in the media than what their PR company had managed to achieve in total during all the years! Sindy was of course personally present at the opening.
A fire eater entertained the kids and Sindy!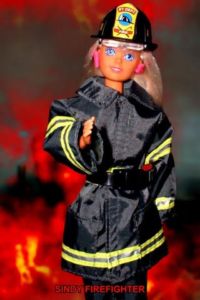 In addition, various toy retailers set up and supported Sindy's exhibition. Among other things Stor & Liten and Barnens Hus. There was a Sindy on call at the museum.
Stor & Liten were furious that Hasbro didn't have any Sindy dolls for sale anymore. The demand was very high because of the exhibition that opened three weeks before Christmas. A number of stores at Stor & Liten had to put up signs that read "No, we don't have Sindy dolls".
However, the persons on duty at the museum had mapped out where there were stores that had Sindy dolls left. We helped parents and the stores stocks soon sold out.
I was responsible for Sindy's PR. A funny note was that women's magazines were reluctant to include our material about the Sindy exhibition, at best a minor notice but I also sent PR material to the men's magazines that existed at the time and they did serious full page articles about Sindy and her story. Of course had Sindy the good taste to wear her raffsets in the material we sent there. The humor went home, but one can wonder why the women's magazines basically refused while the men's magazines did serious big reports on Sindy?
In addition to this, information was sent to Tidningarnas Telegrambyrå TT and apparently they sent the news out worldwide. The whole world celebrated Barbie except little Sweden that celebrated Sindy! Even the daily press wrote about the exhibition at home. But obviously there was a lot written all over the world. My friend with whom I worked
along with had contacts with big famous collectors and other established names. They wrote to her and wondered what happened in Sweden?
There was also a very special Sindy shown during the opening. She wore diamonds, sapphires and the earrings and brooch were made of white gold. Her majorette cane was specially produced by a goldsmith. Few noticed that Sindy was wearing diamonds except an elderly gentleman who watched her very carefully. He probably saw that this was genuine by studying how the light refracted in the gems. This Sindy was specially made by me and her name was Show Girl Sindy. I later sold her…
Unfortunately we only had 4 days to set up the exhibition. Preparing on Monday, open on Friday. We therefore did not have time to build all the scenes we had planned. I had asked children what they thought Sindy would do. Suddenly, interesting proposals came. Sindy would fight the Aliens. It was a girl who fought them on the movies. She would be a vampire, a superhero and more.
A specially designed vampire was created and she became very popular. Sindy's Black Sheep Nosferatu Sindy. There was also a motor show. Poor Action Man had somehow injured his hand. How lucky that S.O.S Sindy was able to patch him up. The alien sculpture was also in place but we didn't have time to build the scene so it ended up just like the scene with Super Sindy stopping Dr. X to run over the unconscious Action Man with a tank. Her feet were supposed to be pushed into the asphalt when she lifted the front of the tank!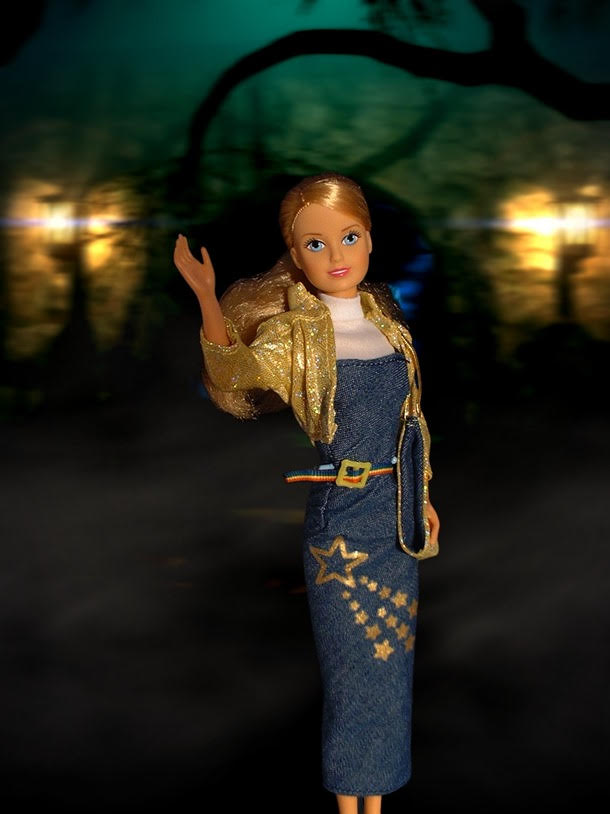 Some additional Questions for Lennart:
1) Q: When I compiles dolls, on my site, I use the years they are first introduced in the catalogs. But when I do it with Hasbro, the years don't match with what you have written on Club Sindy's website. Yours are one year earlier. What do you base your documented years on? A: We use the year that is on the packaging. This applies to all models. So therefore the years differ, 1993 is in the 1994 catalog and so on. So our years takes height for when the model was produced not the year it came out in the store. No year is written on Susy's packaging and there are no pure year models either.
2) Q: Did you have a person who was dressed as Sindy at the big exhibition Sindy Magnifique in Stockholm, or what do you mean by Sindy being there personally?
A: Yep, it was my friend who I worked with and did the exhibit who knew her. Both studied law. She had a great dress that I bought at Ellos for 795 SEK. The dress was super heavy but she actually resembled Sindy quite well. She did a fantastic job. She got to keep the dress. I later heard from my friend that she wore it to a party. She liked the dress very much.
It can be mentioned that while our live Sindy resembled the doll very much with this dress, on an earlier Barbie exhibition at Leksaksmuseet, their live Barbie girl walked around in a bikini… Nah, Sindy would be cute, not some pin-up!
3) Q: How cool to have a fire eater performing at the big exhibition Sindy Magnifique in Stockholm! How did you manage that!? I'm thinking about the fire risk, fire alarms and insurance and so on? A: The fire show took place outside the museum on the street and it was a deliberate PR trick for the Sindy exhibition. Sindy personally on site on the street, fire eaters and lots of children who were offered soft drinks and sweets. It attracted attention. There were buses with people from all parts of the country that visited the Sindy exhibition! Or as a family voiced the matter upon entering the showroom. Quote "It's a war between Sindy and Barbie in Stockholm, but this time Sindy wins!" Barbie had an exhibition at Pub during the same time, also an anniversary. So it was a PR war in Stockholm. Sindy won the war. The women's magazines gave Barbie their support and hardly wrote anything about the Sindy exhibition but the men's magazines backed Sindy with lavish good articles. I also replaced the lighting which was in the showroom for colored spotlights. Unfortunately, the video quality is too poor for this to be visible. I worked hard on the PR strategy!
4) Q: I'm a bit clueless when it comes to Funskool… As I understand it, the license reverted to Pedigree prematurely, thanks to Hasbro being sued by Mattel and later choosing to get rid of Sindy. When Vivid Imaginations came into the picture, it was via license from Pedigree. But had Funskool been licensed by Hasbro before or was it Pedigree that allowed them to use the Sindy name at the same time as Funskool? A: No, the legal process took place earlier, which led to Sindy's eyes, nose, etc. changing slightly. We also need to remember that there was a settlement between the both companies. Mattel lost a number of lawsuits in Europe regarding Sindy. This is often forgotten in the debate. Hence the settle agreement. Funskool's license applied for the years 1994 until it expired in 2005 and they chose not to renew it. They then took away the Sindy name but continued to manufacture models under a different doll name! The shape of that doll was still Hasbro's Sindy. Hasbro decided to get rid of Sindy as she lost market share in England. They also pulled the advertising around Sindy. The first decision was made around 1994 and 1996 was the last year models were produced before the rights went back.
The European head of Hasbro actually contacted Vivid Imaginations and spoke to the design manager responsible for Sindy. I had contact with this woman but I honestly can't remember her name. However, we talked about Sindy in the commercials (probably the flight attendants are a result of this). I suggested Sindy as one promotional product that was specially designed for different companies according to their requirements. Digitization and film with Sindy. Surely I still have these e-mails on some hard drive!
I have 20 hard drives so it takes a while to find them! Vivid had the license between the years 1998-2003.
5) Q: What is the story behind the Diamond Sindy that you mention in connection with the exhibition in Stockholm? A: Diamonds are Sindy's best friend. Well, I wanted to create a special doll with a black dress, a show girl whose outfit is divided into two parts. I don't cheat when I sew a dress for Sindy, I sew the same way you sew a dress for a human. Puts one's skill to the test. Mom's sewing machine is wonderful. Iwill take take care of it when she passes away one day. The gold earrings were bought in a store. They fitted Sindy perfectly. They were made in white gold and had Sindy size diamonds and sapphires!
The same with the brooch and her chain with stones that hung down over the skirt. I wanted to give Sindy a "diamond model" and so I did. However, she was just
exhibited for three days due to the risk of theft. I can say that many of Hasbro's Sindy models that I have in the cabinets wear real gold earrings. Removed the plastic ones.
Previously they were in silver but silver oxidizes so…
Below you can see two lovely Hasbro Sindy dolls from Lennart's collection. These have their original earrings in though!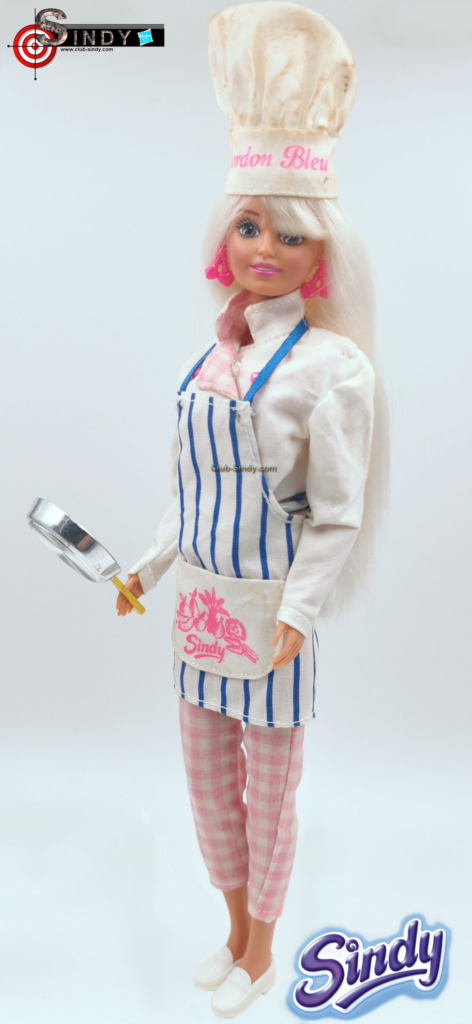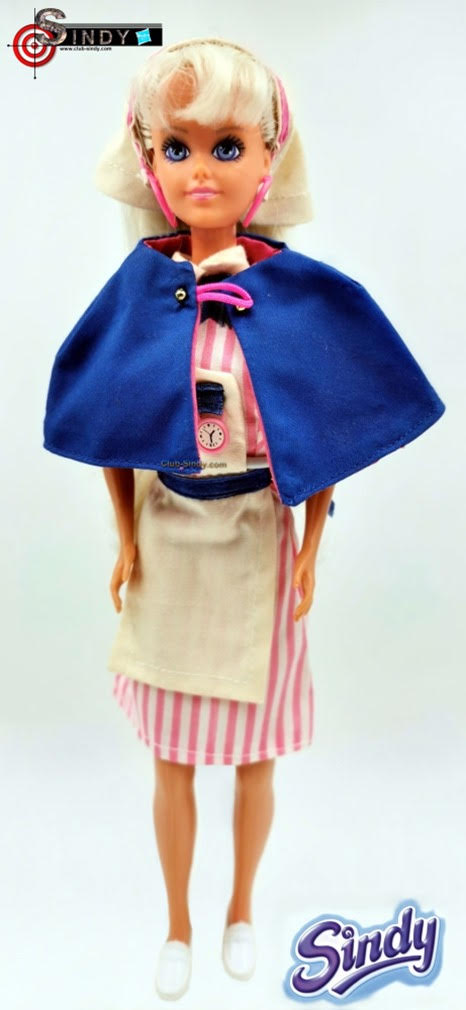 The pictures below are from a miniature exhibition, when Sindy celebrated her 40th birthday, in 2003.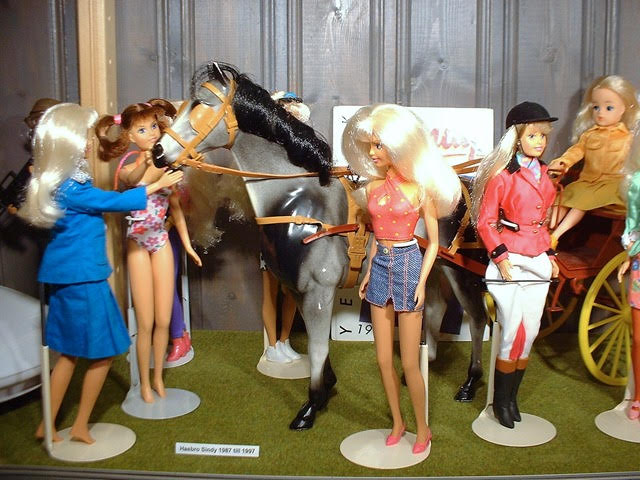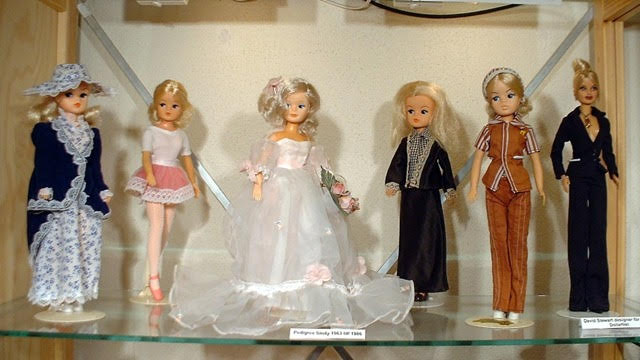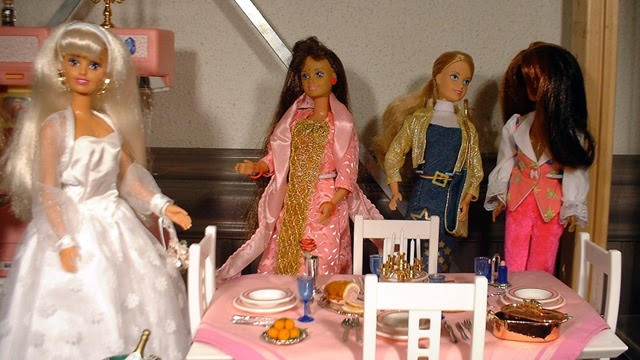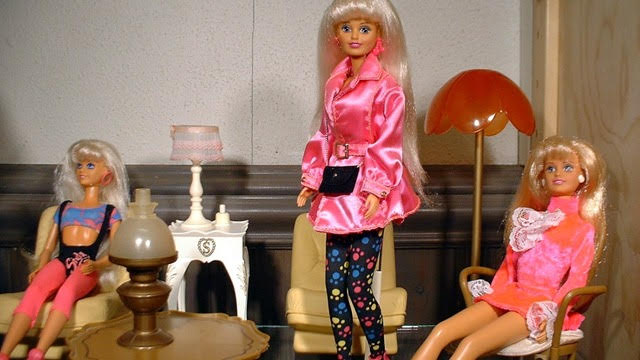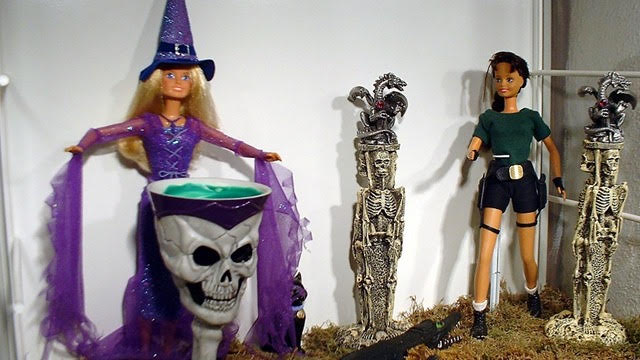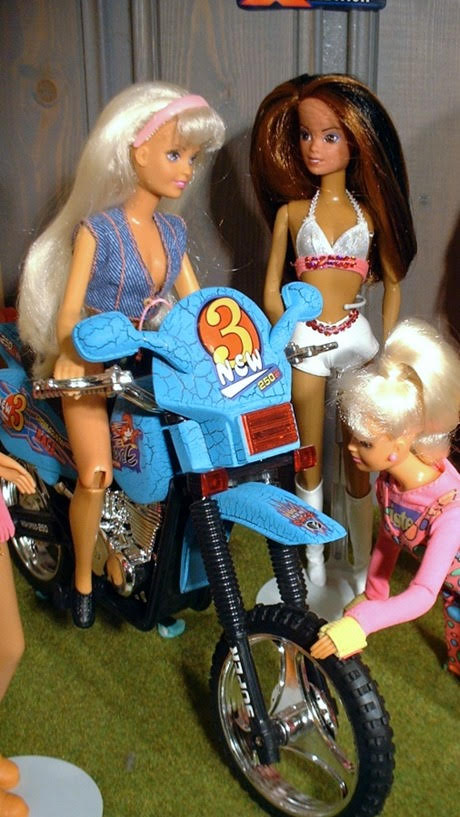 THANK YOU Lennart for your amazing work and for taking the time to answer all the questions!
November 2023